University teams up with Reading Festival 2017 to give students experience of a lifetime
25 August 2017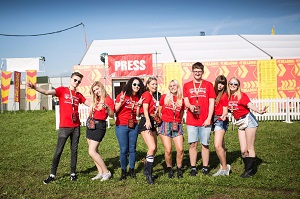 The University of Reading is once again offering students the chance to report live from Reading Festival, thanks to a partnership with festival organisers Festival Republic.
A team of eight students will report live from the festival for the whole weekend, using their behind-the-scenes access to create incredible content for the University's online and social media channels.
For the third year running, the students will be able to rub shoulders with acts backstage, follow the Festival Republic team keeping the festival running smoothly and even experience life as a press photographer in the photo pit.
Karen Smalley, Head of Marketing and Campaigns at the University of Reading, said: "This is a phenomenal opportunity for our students that fits perfectly with our 'Limitless' ethos.
"The team will be there to capture the moments that make the festival, and Reading, so special. The access arranged with Festival Republic is a golden opportunity to have a festival experience that is different to the tens of thousands of music fans in the crowd, and to share it with the world."
The students will be producing reviews of the performances, video interviews festival-goers and photographs to capture the festival atmosphere.
The University has an ongoing relationship with Reading Festival, having gained exclusive access for students for the last three years.
In 2015, students joined reporters at Kerrang! magazine, while in 2016 the University partnered with NME magazine to carry out band interviews for NME's website and produce a pull-out supplement for the magazine.
Follow this year's students on our #BackStageAtReading blog, or keep updated on Facebook and Twitter.