Storm Harvey, bank holiday heat, and the many benefits of learning languages: Reading in the News - 29 August
29 August 2017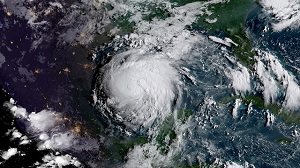 Storm Harvey: Emeritus Professor Sir Brian Hoskins (Met) spoke to the BBC Radio 4 Today Programme (2hr 43min in) about storm Harvey and the link between man-made climate change and the potential for stronger storms such as Harvey.

Multilingualism letter: Dr Louise Courtney (IoE) has co-signed a letter alongside other notable languages and linguistic academics in the Guardian in response to a comment piece by Simon Jenkins on learning languages. The letter forms a series of responses from a range of academics who outline the many benefits of learning other languages.

Obituary: The Guardian carries an obituary for former lecturer of European History, the Revd Richard Bonney, who died aged 70. The article notes his work published during his tenure at the University of Reading.

Record-breaking Bank Holiday heat: Dr Roger Brugge (Met) commented on the hottest bank holiday on record for GetReading, with temperatures of 26.2C recorded at the Reading Weather Station.

Climate graphic: An article for art and graphics channel Hyperallergic looks at a climate graphic by Antti Lipponen, and mentions Dr Ed Hawkins' (Met) climate Spirograph which went viral last year. Read more about Dr Hawkins' graphic here.

Urban weather forecasters: BBC Weather World (4 mins in) spoke to Prof Sue Grimmond (Met) about using data to better forecast weather conditions in urban environments.

Global food industry: Food Manufacture cover Food and Biosciences students from Reading who attended a food industry conference in Las Vegas, USA in June. In a video interview, Alice Nield and Alice Bryant explained how attending IFT conference helped them to put what they've learned on their courses into the context of the industry.

Farming placements: A UoR agriculture student writes for the Gazette & Herald about the benefits of a placement year in the agriculture industry, after working for McDonalds for the year as a Progressive Young Farmer, meeting industry leaders and decision makers including Minister for Agriculture George Eustice.

Also in the news:

<!--[if !supportLists]-->

Image credit: NASA Goddard Space Flight Center, As expected Harvey has intensified into a Hurricane, accessed from Flickr, Attribution 2.0 Generic (CC BY 2.0).