Rare chance to see new Ladybird Books artwork at museum
31 August 2017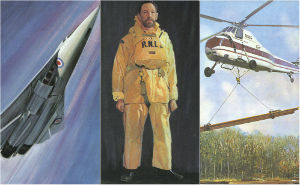 A total of 59 original illustrations for iconic Ladybird books from the 1960s and 70s have been acquired for the Ladybird Gallery in Reading, thanks to a partnership between Ladybird Books Ltd and the University of Reading Special Collections.
Artist John Berry (1920-2009) provided illustrations for 35 books for Ladybird, most notably the 'People at Work' series. The new acquisitions feature illustrations showing the miner, the soldier, the sailor, the airman, the fisherman, the shipbuilders, and the life-boat men. Examples from Learning to Ride, the Public Services series (water, gas, electricity) and Come to Holland were also purchased.
The newly acquired artworks will go on public display in a pop-up exhibition for one night only at the Ladybird Gallery, located within the University's Museum of English Rural Life (The MERL) as part of the Museum's extended evening opening on 31 August 2017 (to 9pm).
The artwork will then be rotated as part of the Ladybird Archive display, which comprises carefully selected items from over 700 boxes of original illustrations. More of Berry's work will also feature in a food-themed display in the museum's permanent Ladybird Gallery, from Monday 21 August. Entry to the Museum of English Rural Life, including the Ladybird Gallery, is free.
For millions of children, Berry's illustrations would have served as an early introduction to the world of work; today they provide a glimpse into how roles and careers were viewed at the time. A talented realist painter, Berry served as a war artist before becoming a high-profile portrait painter, as well as undertaking work for advertisers, such as the famous Esso tiger.
Guy Baxter, Head of Archive Services at the University of Reading, said: "We are tremendously proud to have been the home of the Ladybird Archive for over 15 years. Thanks to generous funding and support from Ladybird Books Ltd, we have been able to ensure that a very strong representative sample of John Berry's work for Ladybird has been secured. This will greatly enhance our ever-changing displays in the Ladybird Gallery, and bring enjoyment to many future generations."
Sara Glenn, Commercial Curator for Penguin Ventures, part of Penguin Random House, said: "We are delighted to have had the opportunity to acquire these John Berry originals for the Ladybird Archive. Berry created some of the most iconic illustrations for Ladybird Books and his style is instantly recognisable as a Ladybird artist. We look forward to sharing these pieces with the general public via the Ladybird Gallery at MERL and bringing his work to a wider audience"
Professor Sue Walker, Department of Typography and Graphic Communication at the University of Reading, said: "We are delighted to have had the opportunity to acquire these John Berry originals for the Ladybird Archive. Berry created some of the most iconic illustrations for Ladybird Books and his style is instantly recognisable as a Ladybird artist. We look forward to sharing these pieces with the public via the Ladybird Gallery at MERL and to bring his work to a wider audience."