Reading gets triple nomination for archaeology awards
04 December 2017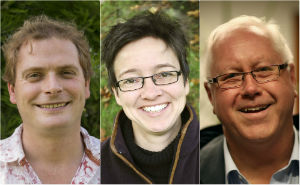 Work to redefine monuments dating back thousands of years and to reveal how ethnically diverse the Romans were has put two University of Reading archaeologists in the running to be crowned Archaeologist of the Year.
Dr Jim Leary and Dr Hella Eckardt have been nominated for the individual prize in the awards run by Current Archaeology magazine. A nomination in the Project of the Year category for the University's Roman Rural Settlement Project, led by Professor Mike Fulford, completes a hattrick of Reading nominations.
The annual awards scheme run by the leading archaeology publication recognises outstanding projects that have been covered in the magazine's pages during the previous 12 months and individuals who have made outstanding contributions to archaeology.
Dr Jim Leary
"I am proud to stand alongside all my brilliant colleagues."
Dr Leary's research has seen him lead a project dating burial mounds using a coring technique, which led to the identification of a 2,500-year-old Iron Age monument. More recently, as director of the University's Archaeology Field School in the Vale of Pewsey, Dr Leary oversaw the first long barrow excavation in Wiltshire in half a century. The investigation uncovered evidence that suggests such monuments may not have been used solely for burials, as previously thought.
On his nomination, Dr Leary said: "I am very honoured to have been shortlisted for this national award. This is the fourth year in a row that a member of Reading's Archaeology department has been nominated for this award, and I am proud to stand alongside all my brilliant colleagues."
Dr Hella Eckardt
"I am surprised but honoured to be nominated."
Dr Eckardt has carried out extensive research into Roman migration, looking at how mobile populations were across Europe and beyond during this period; this research is now also available to school children on her Romans Revealed website. She was recently quoted in the media following fierce debate on this topic on social media, after the BBC published a cartoon featuring a black Roman soldier.
Dr Eckardt said: "I am surprised but honoured to be nominated, and delighted that my work on Roman migration resonates with current debates."
Roman Rural Settlement Project
"It's a fitting recognition of a great team project."
The Roman Rural Settlement Project was set up to collect and analyse information on Roman countryside settlements across England. Funded by the Leverhulme Trust, it has analysed thousands of records of buildings, farm layout, agricultural practice and burial traditions, providing an insight into Roman rural life.
Professor Fulford said: "I'm very honoured to be nominated. It's a fitting recognition of a great team project involving colleagues from two organisations, the University of Reading and Cotswold Archaeology, working together for over six years."
Reading boasts a strong record in the Current Archaeology awards. Professor Fulford won the Archaeologist of the Year award in 2015 for directing the excavations at Silchester for almost 20 years. Professor Roberta Gilchrist won same award in 2016 for her pioneering social approaches to medieval archaeology, including exploring the history of Glastonbury Abbey, and for promoting women in archaeology.
Emeritus Professor Richard Bradley was also nominated for the same prize in 2017, for his projects including investigating ancient art and prehistoric settlements, landscapes and monuments in Europe.
Votes can be cast for the nominations online until 5 February 2018. Cast your vote here >>>
The winners of the awards will be announced at Current Archaeology Live! 2018 on 23 February at the University of London's Senate House.