Students show community spirit - Reading in the news Tue 5 Dec
05 December 2017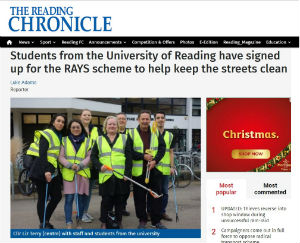 Here is today's media report.
Air turbulence: London Evening Standard, Dot Emirates and International Business Times report Reading research (Meteorology) that suggests severe air turbulence will impact on flight more often later this century due to climate change. Read our news story.
Student volunteers: The Reading Chronicle reports that Reading students have signed up to the Reading Adopt Your Street (RAYS) scheme to tidy up litter in the community.
Prosecco benefits: BBC Hereford and Worcester and Academy FM Thanet report the festive story that prosecco is good for you, as Reading research (Food and Nutritional Sciences) suggests it improves blood flow. Read our news story from 2009.
Pollinator decline: The Colombian Post reports that many pollinators that are vital to agriculture are under threat, quoting Professor Simon Potts (Biological Sciences). Read our news story on the UN report on protecting bees co-authored by Professor Potts last year.
Agriculture professor obit: An obituary for Emeritus Professor Sir John Marsh, retired Professor of Agricultural Economics and Management at the University of Reading, appears on WorldAgriculture.net. Read the University's obituary on the Staff Portal.
Other coverage
The Breeze FM reports on the University of Reading becoming the first university in the UK to pledge support to the Back British Farming campaign by the NFU, thanks to an Agriculture student's work.
Apollo Magazine reports the partnership between the University and the British Museum to build a storage facility on University-owned land. Read our news story.
Macau news site recap853.com quotes Professor Ed Hawkins (Meteorology) in a story on Arctic sea ice decline and the impact of climate change. Read our news story about how melting sea ice could open up new shipping routes in the years to come.
Nutraceutical Business Review explain a new class of probiotic that can reduce cholesterol and blood pressure. Tests on the drug were done with the University of Reading (Food and Nutritional Sciences).
Worldwide media coverage of a Reading study that shows dairy products do not increase the risk of heart disease continues, including in metrotvnews.com in Indonesia, Junior College in the US and AOL.com.
The founder of Hodmedods food project mentioned research carried out by Professor Richard Ellis (Agriculture) on lentil production in a podcast on Resilience.org.
Professor James Ferryman (Computer Science) will speak about how technology can be used more effectively for border control at the Border Security Conference in February 2018, reports PRLog.org.
University Business reports that Matt White, Director of Catering, Hotel and Conference Services at The University of Reading, will speak at the TUCO Winter Conference on Wednesday 6 December.