University returns as sponsor of 2018 women's business awards
04 December 2017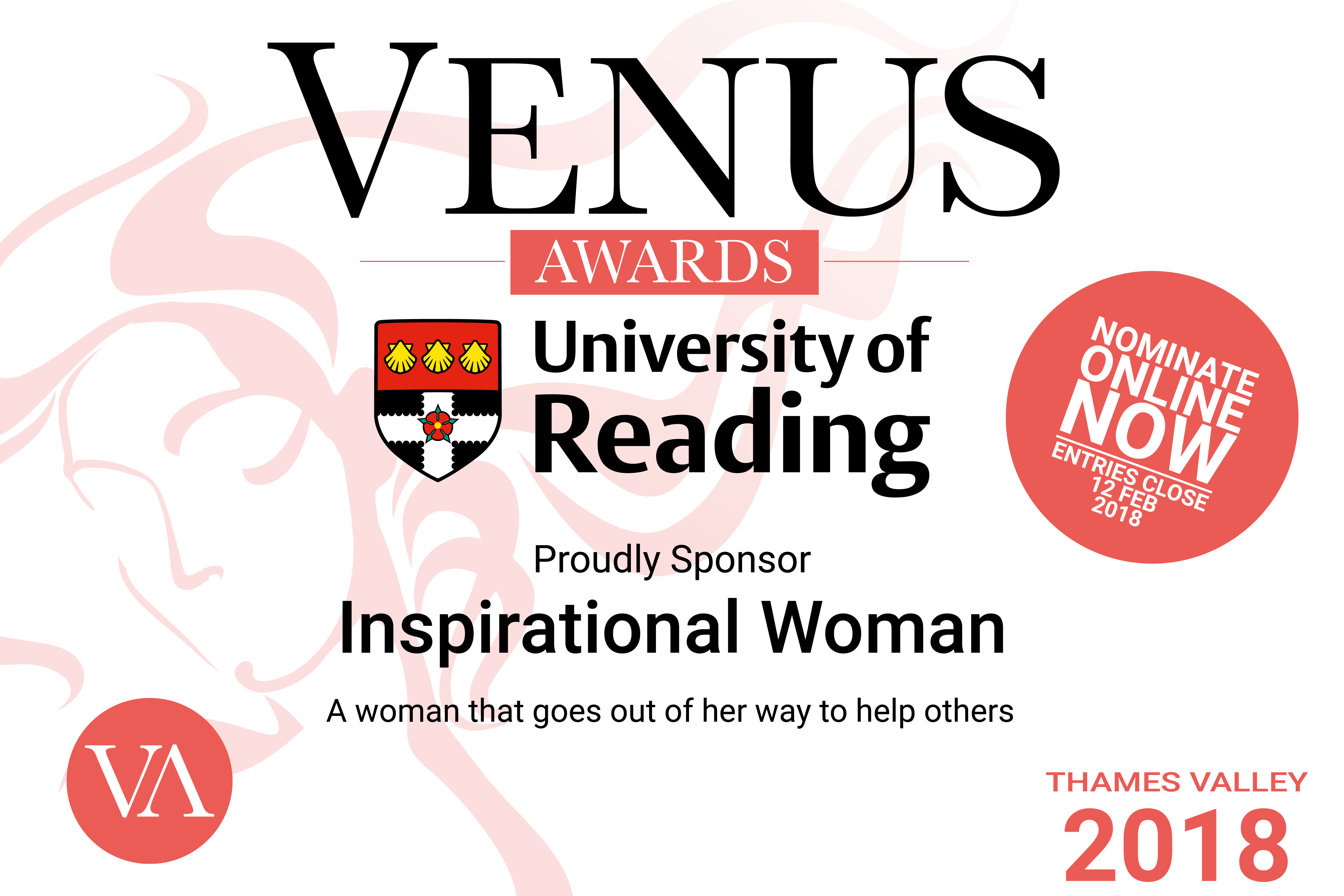 The University of Reading is helping to highlight the region's standout women entrepreneurs by sponsoring the Thames Valley Venus Awards for a second successive year.
The awards scheme identifies the best business women in Thames Valley across more than a dozen categories, with the University again sponsoring the Inspirational Woman award. The 2018 awards, in association with Marshall Volkswagen, were launched with a ceremony held at the Madejski Stadium in Reading on Monday 27 November.
The Inspirational Woman prize was won last year by Lucy Coulbert, Director of the Oxford-based Individual Funeral Company, which provides a service for families who are struggling to pay for funerals.
Fiona Blair, Director of Marketing, Communications and Engagement at the University of Reading, said: "We are delighted, once again, to be sponsoring the Inspirational Woman category in the Thames Valley Venus Awards. The University of Reading is an institution with a very proud heritage of equality and inclusivity, with a wealth of inspirational women who make up our University family, past and present.
"Last year, we had the privilege of getting to know a fantastic group of women whose experience and achievements covered a broad range of professional and charitable activities. We can't wait to meet this year's nominees."
The University of Reading can list many notable women among its alumni and staff. Then University College Reading, it appointed Edith Morley as England's first female professor in 1908, a decade before women got the vote. Reading graduate Felicity Aston MBE, who will receive an honorary degree at the University's December Graduation, became the first person to cross Antarctica solo using only her own muscle power in 2012. Fellow graduate Penny Mordaunt, MP for Portsmouth North, was also recently appointed Secretary of State for International Development by the UK government.
A number of current female staff also hold high-profile positions, such as Professor Ellie Highwood, who is President of the Royal Meteorological Society, and Grace Ioppolo, who is the Sam Wanamaker Fellow at Shakespeare's Globe theatre.
Thames Valley Venus Awards founder Tara Howard said: "The Venus Awards celebrate the increasing contribution that women in business make to the local, regional and national economy."
Nominations are now open, and anyone can nominate a friend, client or family member. Nominees will be whittled down to final category shortlists by the respective sponsors, before the winners are announced at a ceremony and gala dinner at the Royal Berkshire Conference Centre at the Madejski Stadium on 8 June 2018.
Nominations for the Thames Valley Venus Awards 2018 are open now.