Graduate gran celebrates her FIFTH Reading degree
07 December 2017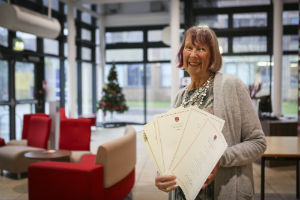 A grandmother is celebrating her fifth University of Reading degree, as the December graduation ceremonies take place.
Anne Latto, 85, this week picked up her PhD in Storytelling from the Department of Film, Theatre and Television (FTT), 36 years after she first studied at Reading as an undergraduate, achieving a 2:1 in Film and Drama in 1981. She also holds an MA in Film and Drama, an MA in Cognitive Evolution from the Department of Archaeology and an MPhil in Film.
Dr Latto, a mother of two and grandmother of five, who lives in Emmer Green, said it was her thirst for knowledge and unwillingness to relax in retirement that brought her back to Reading time after time to earn further qualifications.
"The reason I did five degrees is because I got bored," she said. "I love knowledge. I like to find out how human beings operate and function, and how we convey ourselves in performance.
"My home town is Reading, so it was natural consider the town's university, but I was very impressed with the initial welcoming day and the curriculum on offer. For the PhD I had two supervisors – Professor Lib Taylor and Dr Teresa Murjas – who gave me immense encouragement and advice."
A keen actor
Given her keen interest in studying the performing arts, it is no surprise that Dr Latto is also an actress herself. She attended the Royal Academy of Dramatic Art – whose alumni include Richard Attenborough, Sean Bean, Joan Collins and Tom Hiddleston – before deciding to call it a day on the "long hard slog" of trying to make it professionally.
"I don't make people call me 'Doctor', or anything. I'm much prouder of my five grandchildren" - Dr Anne Latto
However, she remains an active member of Progress Theatre in Reading and Wokingham Theatre, as well as performing in FTT research productions. She is also a storyteller, and a member of the Society of Storytelling. She is also actively involved in the University's Museum of English Rural Life as a volunteer guide.
Asked why she holds an Archaeology MA among her wealth of film and performance-related degrees, Dr Latto said: "Because in film and drama you are dealing with human beings and their psychology. I was very keen to know where we had come from."
Celebrations
Dr Latto, who moved to the UK from Australia aged 20, celebrated picking up her PhD with tea and cakes hosted by the FTT department on Whiteknights campus, before joining her family to continue the celebrations.
A teacher of drama for 10 years at Little Heath School in Tilehurst, Dr Latto can also name a PGCE among her qualifications – also earned at the University of Reading.
But despite being able to boast a formidable CV, Dr Latto is not letting her achievements go to her head. "I don't make people call me 'Doctor', or anything," she said. "I'm much prouder of my five grandchildren."
Earlier this year, Reading welcomed another unlikely graduation star in the form of Boris the dog. Read his story here.
At this week's graduation ceremonies, the University of Reading is also recognising the achievements of a notable alumna and a former member of staff, as it presented its Alumna of the Year and Honorary Graduate awards to Felicity Aston MBE and Professor Tim Wheeler, respectively. Read the full story here.