Why morning sickness is a good thing - Reading in the news Thu 7 Dec
07 December 2017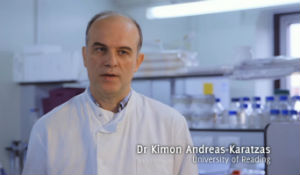 Here is today's media round-up.
Food consume-by dates: Dr Kimon-Andreas Karatzas (Food and Nutritional Sciences) was interviewed for Channel 4 show Supershoppers (6 mins 30 secs), exploring how strictly people should follow food use-by dates.
Morning sickness: Reading research published today by Emeritus Professor Phil Lowry (Biological Sciences) shows that morning sickness experienced by pregnant women may be a good sign because it indicates the presence of a hormone that is vital for a healthy pregnancy. The news is reported on Sky News and in the Daily Mail, iNews, the Express and on BBC Radio 2 (1 hr 15 mins 40 secs).
British Museum partnership: Pro-Vice Chancellor Robert Van de Noort spoke to BBC Radio Berkshire (1 hr 48 mins 30 secs) about the partnership between the University and the British Museum to build a new storage facility on University land. Read our news story.
Brexit negotiations: Dr Mark Shanahan (Politics and International Relations) spoke to BBC Radio Berkshire (9 mins 50 secs) about the negotiations over the border between Ireland and Northern Ireland post-Brexit.
Gender and risk: London Loves Business reports on research by Henley Business School suggesting that, although women remain more financially risk-averse than men, the gap is closing. Read Henley's news story.
Other coverage
BBC Radio 2 (1 hr 19 mins 20 secs) referenced Reading research that listening through your right ear helps you remember things
HR Magazine quotes Dr Chris Dalton (Henley Business School) on the allegations of money laundering made against Donald Trump's ex-campaign manager Paul Manafort
University Business reports on the strategic collaboration between Henley Business School and EY to provide new degree apprenticeships for UK businesses. Read Henley's news story
Reading research suggesting prosecco is good for our circulation is featured on Rock FM. Read our news story from 2009 here
Reading entering the top 100 for Physical Sciences for the first time is reported by BBC Radio Berkshire
Image credit: Still from Channel 4 Supershoppers