Local School artwork to set welcoming mood for young people's mental health clinic
06 December 2017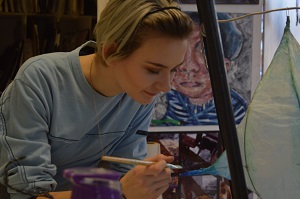 Budding art students at a local school will be having their work showcased in a specialist clinic for young people with common mental health problems.
The specialist art college, Theale Green School donated student artwork from their annual exhibition to transform the clinic environment in the AnDY Research Clinic at the University of Reading. The AnDY research clinic provides assessment and treatment for young people with depression and anxiety. The AnDY research group and Theale Green School have an ongoing relationship from working together to evaluate a brief talking therapy ('Brief BA') for adolescent low/mood depression within the school.
Catherine Newell, AnDY's Research Advisory Group* co-ordinator said:
"I love the new clinic – the artwork really brightens up the place. It's really great that the art was donated by Theale Green school as the students who created the artwork will be the same age as a lot of those who will be using the clinic. It was a real privilege for the Research Advisory Group to be able to help choose the artwork as it's made up of previous service users and family members."
I love the new clinic – the artwork really brightens up the place.

Catherine Newell, AnDY's RAG coordinator
Following the opening of the AnDY research clinic in December 2016 on the University campus, Andrew Wilson (Head of Technology and Art) at Theale Green School offered to loan some of the artwork from their annual exhibition to the clinic, to be refreshed every year.
Carers and service users from the AnDY Research Advisors Group (RAG) who work alongside the research clinic were then invited to help select the artwork, considering what artwork will be best for children and young people using the service.
Professor Laurie Butler, Head of the School of Psychology and Clinical Languages Sciences at the University of Reading said:
I'm so proud of our staff, who are able to offer children and young people access to the very latest treatments for anxiety and depression, and we are very grateful to Theale Green School for the fantastic artwork – it will really help our visiting families to feel at home."
Friendly and supportive atmosphere
The artwork selected from Theale Green students will be displayed throughout the clinic to create a friendly and supportive atmosphere.
John Gate, Chair of Governors at Theale Green School:
"As Chair of Governors, I recognise the impact that anxiety and depression has on the welfare and educational progress of our students. The governing board really welcome the input from the AnDY clinic in identifying students at risk of anxiety and depression and in providing strategies to help those in need."
The AnDY Research Clinic, based in the School of Psychology and Clinical Language Sciences at the University of Reading, supports and treats young people aged 7-17 for anxiety and depressive disorders, alongside research into these conditions.
Brief Behavioural Activation treatment
The AnDY Research Clinic have also been collaborating with Theale Green School on a project evaluating the feasibility and effectiveness of delivering Brief Behavioural Activation (Brief BA, a psychological treatment) in schools for adolescents with low mood/depression.
Dr Laura Pass, Research Clinical Psychologist: Adolescent Depression said:
"Brief BA is a structured, practical talking therapy for low mood, that aims to help young people identify what is personally important to them (their values), and plan their time to increase the amount of time spent doing value-based activities. The idea is not just to do more, but to do more of what matters to them.
"The AnDY research group have been successfully piloting this in NHS CAMHs, and are now in the middle of a 3-year project evaluating the delivery of Brief BA in schools. Theale Green School is one of the main sites for our project, and they have been incredibly supportive and influential in shaping the work as we have progressed.
Mrs. Linda Stevens, Head of SEND and Head of Year 10 at Theale Green school said:
"Working alongside the Brief BA Project at Theale Green school has allowed us to support some of our most vulnerable students with their mental health needs. The team have understood the complexities of adapting their sessions to match the demands of secondary school life and have fostered and developed vital links between student, school and home, increasing everyone's understanding."
Adrian Williams. Research Dean for Health said:
"The AnDY clinic is a wonderful example of the broad-ranging impacts from Health-related research at the University of Reading, directly improving the health and well-being of patients and carers. Working in collaboration with clinicians, patients and other academic experts across the University, fundamental research into the development of anxiety disorders and depression in in children and young people is used to develop new interventions and treatments that are tested and then rolled out both nationally and internationally.
"With anxiety disorders and depression affecting 32 and 23% of people respectively, at some point in their lives, and with 50% of adults with anxiety disorders and depression first experiencing these difficulties before the age of 14, these evidence-based and clinically effective interventions have never been more important."
Notes:
<!--[if !supportLineBreakNewLine]-->
<!--[endif]-->
*AnDY Research Advisors Group
The AnDY RAG is a group of young people who have experienced difficulties with anxiety or depression and their parents/carers. The AnDY RAG work with researchers and clinicians at the University of Reading to make sure they do research that will be helpful for children and young people with anxiety or depression and their families and to make sure it is done in a way that families find acceptable and interesting.