Meet our 85-year-old graduation star - Reading in the news Fri 8 Dec
08 December 2017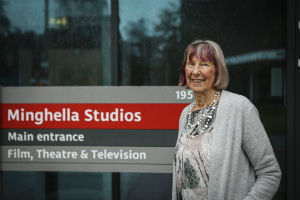 Here is Friday's media report.
Graduate gran: An 85-year-old grandmother picked up a PhD from the FTT department at yesterday's graduation ceremonies - her fifth degree from the University of Reading. She was interviewed by BBC Radio Berkshire (1 hr 18 mins 48 secs), and regional television pieces are to follow. Reading Chronicle also ran the story. Read our news story.
Brexit negotiations progress: Dr Mark Shanahan (Politics and International Relations) spoke to BBC Radio Berkshire (approx 10 mins) alongside Wokingham MP John Redwood immediately after this morning's government announcement on Brexit, citizens' rights and the Northern Irish border. He then provided further analysis to BBC Berkshire (1 hr 24 mins 45 secs) later in the morning.
Global warming: Professor Bill Collins (Meteorology) is quoted in several articles around the world after providing comments to the Science Media Centre on a new study that suggests the UN's global warming forecasts are about 15% too low. Articles appear in Jamaica Observer, Daily Sabah in Turkey and African Reporter in South Africa, Gulf Times in the US and the Daily Sun in Bangladesh, among many others.
Other coverage