True pioneer honoured as Alumni of the Year
08 December 2017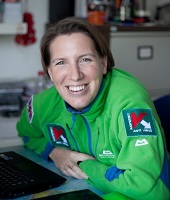 The first and only woman in the world to ski across Antarctica alone, Felicity Aston MBE has been honoured with the Alumni of the Year award at the University of Reading's winter graduations.
Aston, who missed her first graduation in 2000 after studying an MSC in Applied Meteorology because she was travelling to Antarctica for the first time, was presented the award by Professor Giles Harrison, Professor of Atmospheric Physics, on Thursday 7 December.
Professor Giles Harrison who presented Felicity Aston MBE with her award said:
"Amongst many distinguished awards, Felicity received the Queen's Polar Medal in 2015 and was appointed MBE for services to polar exploration. In the Department of Meteorology we are very proud that such an exceptional individual is amongst our alumni and alumnae, and she is without question an outstanding candidate to be honoured by the University of Reading."
Tackling the impact of El Nino
A former Reading professor who helped 13 million people across Africa to cope with the impact of the 2015/16 El Nino weather event was also presented with an honorary degree.
Professor Tim Wheeler, Director of Research and Innovation at the Natural Environment Research Council (NERC), was presented with an Honorary Doctor of Science award for his career looking at the relationship between climate change and the sustainability of agriculture and food. A former scientific advisor to the Department for International Development (DfID) and lead UK delegate for the public-private partnership Climate Services for Resilient Development which was co-founded in collaboration with the Obama White House.
After receiving his honorary degree, Professor Wheeler said:
"I am deeply honoured by the award of the Honorary Degree of Doctor of Science from the University of Reading, with which I have had a long, productive and enjoyable association. In my career I have been lucky to work with many outstanding individuals without whom I would not have been able to realise some of the achievements this award reflects."
Introducing Professor Tim Wheeler for the degree, Professor Richard Ellis from the School of Agriculture, Policy and Development and former supervisor of Tim, said:
"We congratulate Tim on your considerable and diverse achievements in science, policy development and implementation. Thank you also for providing a superb model of a portfolio career to today's graduates."
Felicity Aston MBE and Professor Tim Wheeler joined hundreds of students in the winter graduations, including 85-year old Dr Anne Latto who graduated with a PhD in Storytelling, her fifth degree from the University of Reading.
Read more at:
https://archive.reading.ac.uk/2017/December/pr750596.html