Reading takes ESRC Festival of Social Science to Whitehall and school hall
14 December 2017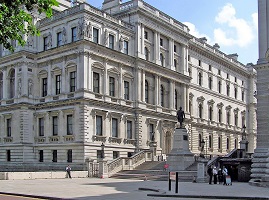 Each year, the ESRC holds the national Festival of Social Science, celebrating social science research in the UK and its impact on society.
Researchers from the University of Reading again participated in the festival, organising four events for policy makers and the wider public to showcase both findings from their research and to explore its implications.
The university's events organised as part of the Festival of Social Science reflect the wide variety of social science research carried out at Reading – with one event at the Foreign Office, London, attended by government ministers and UN officials, two events attended by teachers and families at Reading's Institute of Education, and another drawing interest from students and member of the public at the Minghella Studios, Reading.
Topics were underpinned by Reading research into issues such as society's attitude towards death, why the world's poorest communities are suffering most from the effects of climate change, and how we protect children in war zones from sexual abuse.
Professor Dominik Zaum, Research Dean for Prosperity & Resilience at the University of Reading, said:
"Social science research can have a big impact on shaping the ways in which societies responds to the challenges they face. I am delighted we such a strong contribution to this year's ESRC Festival of Social Science, and the engagement of Reading's researchers both with the public and with policy makers tackling big issues like death, justice, and peacekeeping, to raise awareness, stimulate debate, and to drive change in policy and practice."
Peacekeeper or Perpetrator?
In a seminar 'Peacekeeper or Perpetrator?', hosted by the Foreign & Commonwealth Office, London on 6 November, academics, UN and government officials, and NGOs, discussed how to protect children in some of the most dangerous places around the world, in particular from sexual violence committed by those sent to protect them, such as peacekeepers.
It included presentations by Professor Rosa Freedman, Professor of Law, Conflict and Global Development at the University of Reading, and Baroness Hodgson of Abinger, co-chair of the All Party Parliamentary Group on Women, Peace and Security and a member of the steering board of the Foreign Secretary's Initiative to Prevent Sexual Violence in Conflict and Post-Conflict Countries.
Professor Freedman said: "Sexual exploitation and abuse by peacekeepers, as highlighted in recent years by the media and wider public, must not be allowed to continue.
"The work I am undertaking with Keeping Children Safe provides practical solutions for preventing those harms being perpetrated and for providing justice to victims when they do occur. We are working with the UN, Peacekeeping Training Centres, Troop Contributing Countries, and Peacekeeping Operations to implement child safeguarding with all relevant stakeholders."
Bringing death to life
Teachers, children and families attended a Mexican Day of the Dead-inspired celebration of life called 'Game Over? Bringing Death to Life' at the University of Reading's Institute of Education and Museum of Rural English Life on Friday 10 November.
The popular interactive sessions included an ethical taxidermist, games of cemetery Monopoly, and presentations by guest speakers exploring our changing attitudes to death. The activities were informed by research by Dr Yota Dimitriadi from the University's Institute of Education on multicultural perspectives around loss and death.
Writing in a blog ahead of the event, Dr Dimitriadi said:
"The pain and fear of death is a topic that unites us all. Generous funding by the ESRC is allowing us to put together a community event during the upcoming Festival of Social Science to discuss the unspoken 'D' word.
"Reading is a multi-culturally rich community where celebrations of its diversity are usually initiated in isolation by each ethnic group. At these times of uncertainty and social unrest, as social scientists we are contemplating how we can support community healing, solidarity and celebrate life in sensitive and positive ways."
Climate justice
A booked-out Minghella Studios played host to researchers from the Leverhulme Climate Justice Programme at Reading, on Saturday 11 November, who organised the event 'Climate Justice. Can fairness create a green future?'.
Participants heard from scholars from the Leverhulme Climate Justice Programme highlighting not just the scientific, but the ethical and political questions raised by climate change, and humanity's response to them.
Plain-language discussions led by the researchers focused on Reading research projects, including the ethics of geoengineering and the intergenerational injustice of climate change. The event concluded with a screening of Greedy Lying Bastards, a film investigating how fossil fuel industries affect vulnerable communities, in the cinema of the Minghella Studios, and a question-and-answer sessions with Professor Catriona McKinnon, the programme director.
The Leverhulme Climate Justice Programme is a five year doctoral training programme providing training and funding for 15 doctoral students undertaking research across a range of areas related to climate justice.
Further details about the ESRC Festival of Social Science:
http://www.esrc.ac.uk/public-engagement/festival-of-social-science/