First group of budding medical professionals graduate to help meet growing healthcare demands
15 December 2017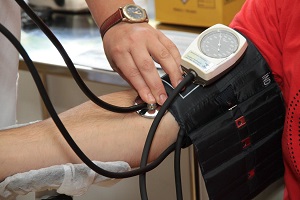 The first group of budding medical professionals to complete the University of Reading's Physician Associate programme have graduated today – and are already making a difference in local healthcare.
Graduates from the programme have gone onto work in hospitals and GP practices including the Royal Berkshire Hospital where they are supporting doctors to care for patients in departments including the Emergency Department and Neurology.
Dr Simone Magee, Academic Director of the Physician Associate Programme said:
"Witnessing our pioneering cohort of Physician Associates graduate this week fills me with great pride and satisfaction. Every one of our graduates who has qualified to work as a PA has now secured employment in the NHS, adding much-needed new blood to the workforce within both primary and secondary care.
"They will now go out equipped with the skills and knowledge required to provide excellent patient care - the result of two years of their own hard work, the efforts of a dedicated University programme team, and excellent support from our local healthcare providers."
Professor Richard Ellis, Director of Health Partnerships at the University of Reading said:
"It is right that we celebrate the success of our first Physician Associate graduates this week. I am delighted that their hard work, and that of all the many colleagues in the university, our local NHS Trusts, and GP practices who taught and trained them, has paid off. I congratulate the class of 2017 Physician Associates on their achievements, and I am proud that they are already contributing to healthcare in the region supporting doctors to provide high quality patient care."
The Postgraduate Diploma Physician Associate programme, which fast-tracks top science graduates into healthcare professions, is designed to help the NHS meet the demands of the UK's growing population. Physician Associates (PA) undertake two years of intensive training before they begin working alongside doctors in a wide variety of workplaces (including GP practices, community health services and all types of hospital care). PAs support doctors in the diagnosis and management of patients and are trained to perform a number of roles including:
taking medical histories
performing examinations
diagnosing illnesses
analysing test results
developing management plans
<!--[if !supportLists]-->

The programme is the first of its kind in the Thames Valley and has been developed in partnership with both the Royal Berkshire Hospital and Berkshire Healthcare, along with the collaboration of local clinical commissioning groups. Both NHS Trusts will be providing clinical academic input into the course as well as a range of placements.

Applications for the 2018 intake of Physician Associates opens on 8 January 2018. Find out more about the Physician Associate programme at:
https://www.reading.ac.uk/pharmacy/physicianassociate/pharm-physician-associate.aspx