Singin' in the rain or here comes the sun? It might just be cloudy with a chance of meatballs: Reading in the News - 18 Dec
18 December 2017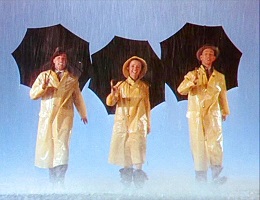 Weather songs: Research by Prof Paul Williams (Met) into the impact of climate and weather on popular music was presented at a conference last week, and covered in the Atlantic and reproduced for MSN US and Yahoo news.
Artwork brightens AnDY clinic: Coverage of new artwork on loan from a local school that has been installed in the Anxiety and Depression in Young People's Research Clinic based on the Whiteknights Campus. That's Thames Valley TV and BBC Berkshire spoke to Prof Polly Waite, Clinic Director, and That's Thames Valley also spoke to Dr Laura Pass (Psychology). Read more about the story here.
Fried foods mitigate global warming: Further coverage of a study by Dr Christian Pfrang (Chemistry) from the University of Reading showing that fried food encourages cloud formation, on the local BBC Humberside radio show Paul Hudson's Weather Programme. Read our news story here.
Other coverage:
GetReading covered news that the University of Reading has agreed a partnership with the British Museum to house artefacts next to the new Thames Valley Science Park. Read our news story here.
A memorandum of agreement (MoA) between the University, the UoR Malaysia campus and the International Centre for Education in Islamic Finance (INCEIF) is covered in the Borneo Post.
U|chief have included a keynote speech by Jon Foster Pedley, Dean of Henley Business School Africa, in a roundup of inspirational videos.
<!--[if !supportLists]-->