The return of Mr Cyborg - Reading in the News Thur 2 Feb
02 February 2017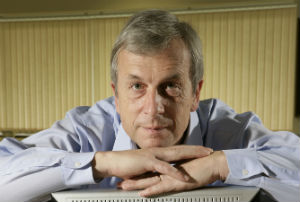 Here is a round-up of the latest media coverage featuring the University of Reading.
Northern Lights in Scotland: BBC Radio Scotland (19 mins 12 secs) reported the Reading research showing the Northern Lights could be no longer visible from Scotland, which is usually the best place to see them in the UK, due to a change in solar activity. Professor Mike Lockwood was interviewed live. The story continues to be covered widely by global media, including online by the BBC. Read our story here.
Mr Cyborg: Professor Kevin Warwick's cybernetics work at the University of Reading to develop technology implants in humans was featured on Modern Marvels on the History Channel in the US.
Huge volcanic eruption: Research by Dr Pablo Ortega at Reading on the potential results of a huge volcanic eruption, similar to the biggest of their last millennium in the 13th century, was covered by Homeland Security News Wire. Read our story here.
Polio vaccines: Health Canal and Infection Control Today featured research involving University of Reading scientists showing new, safer ways to provide vaccines against polio.
Henley event: The Business Magazine published an article on Henley Business School's 'Building an Sustainable Competitive Advantage' panel event on 20 February.
Other coverage:
The RICS' Cyprus Property Price Index, based on methodology produced by the University of Reading, was reported by Semiconductor Industry Today
Reading graduate Clausia Canales Holzeis, now a plant molecular biologist, wrote a blog on Biosciences for Farming in Africa on how to develop crops that can survive droughts
Professor Ted Malloch from Henley Business School, who is tipped to be the next US Ambassador to the EU, was mentioned in a feature about the US dollar in The Economist and in FXStreet