Reading officially safe, and why we should think twice about ISAs - Reading in the News Fri 3 Feb
03 February 2017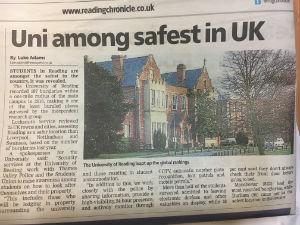 Are cash ISAs the right option?: BBC Radio Berkshire (2 hrs 40 mins 29 secs) talked to Professor Adrian Bell from Henley Business School about how sensible it is to put cash in an ISA.
Strong application numbers: ITV.com reported on Reading achieving high numbers of undergraduate applicants and a record number of postgraduate taught applications. Read our story here.
Holistic approach to planning: ICIBSE Journal ran a feature on the importance of using academics knowledge in plans for buildings and cities, to improve people's health and reduce heat and pollution emissions.
Safe Reading: A Reading Chronicle report showing that the University of Reading area has experienced one of the lowest numbers of burglaries in 2016. The article states efforts the university makes to ensure the safety of students on and off campus.
60-second sermons: The University's Anglican Chaplain Revd Mark Laynesmith has recorded some short sermons for BBC Radio Berkshire (2 hrs 16 mins 20 secs), who are challenging local religious figures to inspire their listeners in less than a minute. He will be on again this Sunday morning (5 Feb).
Other coverage:
New ways to provide vaccines against polio, developed by scientists at Reading, among others, were covered by Medical News Today
Research by Professor Donald Mottram showing why burnt toast and potatoes could pose a cancer risk continues to be covered worldwide, including in China on wzaobao.com. Read more about this research in our news story
The Northern Lights disappearing from view in the UK due to a shift in solar activity continues to be covered widely globally, including on iNews and Science World Report. Read our news story here