The royal anniversary, Grexit and melting Arctic sea ice - Reading in the News Tues 7 Feb
07 February 2017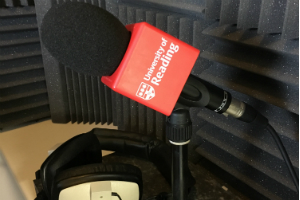 Here is a round-up of the latest media coverage featuring research and expert comment from the University of Reading.
Arctic sea ice melting favours Russia: A study by Russian scientists has found that the melting of the Arctic sea ice will open up the Northern Sea Route as an alternative to the conventional Suez or Panama Canal routes for intercontinental shipping, reports BuzzFeed. University of Reading PhD student Nathanael Melia is quoted within the article, saying that a shipping route that crosses directly over the poles may be later than the study suggests, due to ice piling up in some straits.
Grexit: Trump's favourite for the top US diplomatic role in the European Union, Prof Ted Malloch (Henley Business School), is quoted in The Express (following an interview on the EU with Bloomberg last week) saying that Greece should leave the Eurozone because of its failing economy. Prof Malloch's comments have also been picked up by multiple Greek news sites, including Tornos News and Thema News. In addition, Prof Malloch is interviewed by RT.com France and is also referenced in this Euro News article.
Northern Lights disappearing?: Popular science blog IFLScience.com has covered the study by University of Reading scientists Dr Mathew Owens and Prof Mike Lockwood (Met), which found that the UK could lose sight of the Northern Lights within decades. The story has also been covered by True Viral News and Science World Report.
Royal anniversary: Professor Kate Williams (History) spoke about the 65th anniversary of Queen Elizabeth II ascending to the throne, on 6 February 1952 on BBC Radio Berkshire.
Intensive land use effect: Research led by the University of Reading (Ecology and Evolutionary Biology) showing how intensive land use combined with climate change impacts on bird and butterfly communities in the UK was discussed on BBC Humberside, BBC York and BBC Radio Lincolnshire by a Natural England spokesperson. Read our story here.
Protein crop trials: Farming.co.uk reports research trials supported by Dr Hannah Jones (Food and Nutrition) looking at the viability of growing organic proteins for animal feed.
Motivation study: Get Reading covered research by Dr Kou Murayama (Psychology) showing that the perception still exists in society that rewards, such as cash bonuses, motivate people, despite evidence that they do the opposite. Read our news story here.
Other coverage:
Susanne Clausen (Art) is down to speak at the RSA's Engage event this coming May - as featured in this RSA blog.
Revd Mark Laynesmith, University of Reading Anglican Chaplain, gave his latest 60-second sermon to BBC Radio Berkshire on Sunday
The University's campus security team was praised by firefighters in a brief report on Get Reading about students being rescued from a lift in Windsor Hall.
Get Reading also reported on deductions made from student accommodation deposits in 2015/16 for various reasons, such as damage.