Pioneering new Alzheimer's research gets £90k funding boost
08 February 2017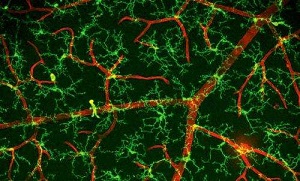 Dementia researchers at the University of Reading have been awarded over £90,000 of new funding from Alzheimer's Research UK, the country's leading dementia research charity.
The funding will see a Reading team embark on a collaborative project with scientists at the University of Exeter, to pool expertise in the fight against Alzheimer's disease.
Dr Mark Dallas, Lecturer in Cellular and Molecular Neuroscience at the University of Reading, will be working on a novel project to investigate how immune cells in the brain called microglia are involved in Alzheimer's disease. Microglia are increasingly being implicated in the progression of Alzheimer's and Dr Dallas, alongside fellow researchers, hopes to clarify these links to reveal key insights into the biology of the disease. The Reading team will work together with scientists at the University of Exeter to explore the effects of a key Alzheimer's protein called amyloid on these immune cells in the brain and how this interaction triggers nerve cell death in the brain.
Dr Mark Dallas said:
"For many years, scientists have focused on the involvement of a protein called amyloid in Alzheimer's disease in relation to nerve cells, while other cells in the brain have received little attention. This new funding boost will help us study important immune cells called microglia and to understand how these cells could be central to the disease. We hope to uncover new clues that could pave the way for new treatment approaches for Alzheimer's."
"Being given the opportunity through the charity's Research Network to work with other researchers focused on Alzheimer's in Exeter is exciting and will allow us to explore the involvement of microglia in Alzheimer's in greater detail. To be able to collaborate on ideas will drive our studies forward and any findings will help progress research into much-needed new treatments for this devastating disease."
Leading cause of death in the UK
More than 850,000 people in the UK have dementia, with Alzheimer's disease being the most common cause of the condition. Dementia has also recently surpassed heart disease as the leading cause of death in England and Wales. Symptoms of dementia include confusion, memory loss, and personality changes, all of which gradually worsen over time as the condition develops. Currently there are few effective treatments for diseases like Alzheimer's, but researchers are making significant progress unravelling the biology of Alzheimer's in the hope of finding drugs to treat the disease in the near future.
Alzheimer's Research UK already provides support to the Universities of Reading and Exeter through its UK-wide Research Network of pioneering scientists. This network brings together the best minds across the UK to encourage collaboration on pioneering projects, all with the central goal of defeating dementia. The universities of Reading and Exeter have individually worked on dementia research previously funded by Alzheimer's Research UK, but this new funding will be the start of a new close relationship between the research teams.
Dr Rosa Sancho, Head of Research at Alzheimer's Research UK, said:
"This pioneering project is an excellent example of how researchers can be supported to work together across the UK on revolutionary dementia research. Studies to understand the biological underpinnings of Alzheimer's are vital for building a clearer picture of the disease, which will shape the search for effective treatments. All of our research is solely funded by public donations, so we are extremely grateful to all those who support Alzheimer's Research UK and have helped us to fund this important work."
Read about Dr Mark Dallas' work funded by ARUK in a blog available at:
http://www.dementiablog.org/its-not-all-about-the-nerve-cells/
Further details about Mark's work on astrocytes is available at:
https://doi.org/10.1042/BCJ20160505
Image Credit: Microglia (2014), nei.nih.gov.