Achieving 35% carbon reduction and eating ice cream for breakfast – Reading in the news Thurs 9 Feb
09 February 2017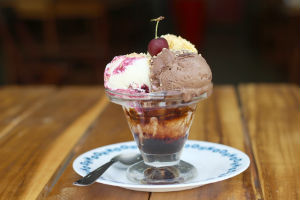 Here is today's round up of media coverage for the University of Reading.
The fall of the Euro: Prof Ted Malloch (Henley Business School), the US President's likely choice to become his EU ambassador, has said the fall of the euro is "an economic reality" - writes The Express. City AM covers a story on Prof Malloch's comments about 'Anti-Americanism' in Europe.
Carbon reduction target: UoR has achieved its target to cut carbon emissions by 35%, producing a saving of £17 million over a five year period. The University has now set a target of 45% carbon reduction by 2020/21. Energy Live News, The Business Magazine and EAUC cover the news. Read our story here.
The modern construction industry: Construction is increasingly turning to virtual reality and augmented reality, says Dr Dragana Nikolic (Architecture), in an opinion piece for BIM Plus.
Eating ice cream for breakfast: A study by a Japanese professor found that eating ice cream for breakfast had surprising health benefits. Good Food (USA) covers the story and features a quote from Katie Barfoot (Psychology).
Bercow visit to UoR: House of Commons Speaker John Bercow visited Reading last week to give a talk to Politics students where he rehearsed his opinions on Trump's visit to the UK, which have been widely reported in the media this week. GetReading reports.
Data privacy: Ardi Kolah (Henley Business School) talks to Bloomberg BNA about what the new EU General Data Protection Regulation coming into effect in 2018 means for EU companies.
UK China trade set to grow: Analysts are forecasting growth in UK-China bilateral trade and investment in light of the British government's latest policy document on Brexit arrangements. Prof Andrew Godley (Henley Business School) provides expert commentary in this ChinaDaily article.
Other coverage:
A Cincinnati news channel featured a brief mention of the professional chocolate tasting job that is being advertised by Mondelēz International, which is based on the Whiteknights campus.