Speaker of the House, Red Kites and Alzheimer's: Reading in the News - 13 Feb
13 February 2017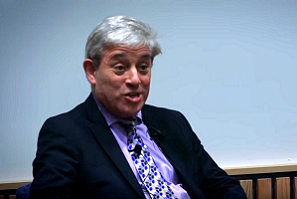 John Bercow: Extensive coverage of comments by Speaker of the House of Commons, John Bercow, who spoke to Politics students at UoR on Feb 3rd. In our video of a Q&A, Bercow revealed that he voted remain in last June's EU referendum, as well as commenting on US President Trump's travel ban. In the Telegraph (and follow up article here), The Andrew Marr show, BBC News, Sky News, C4 News, Yahoo.co.uk, Daily Mail, Herald Scotland, ITV, LBC, as well as extensive coverage on BBC and ITV regional TV and radio, and Breitbart. See our news story here.
Trump's EU ambassador pick: Further coverage in the Financial Times and Express of Prof Ted Malloch (Henley Business School), the US President's likely choice to become his EU ambassador. FT article includes a comment from a spokesperson from HBS, and the Express carries comments from Prof Malloch.
Red Kites: Professor Mark Fellowes spoke to BBC Countryfile Winter Diaries about how suburban homes are feeding red kites, causing them to 'commute' from the countryside in search of food. Read our news story here.
Alzheimer's research: Dr Mark Dallas (Pharmacy) spoke to BBC Berkshire about a new £90k grant to research Alzheimer's – looking at the brain's immune cells might unlock new treatments for the disease. Read our article online here.
Tesco overcharging by out of date offers: Dr Steve Musson (Geography) spoke to BBC local radio stations including BBC Berks following an investigation by the BBC into customers being overcharged by promotions which have expired but still advertised in shops.
Childhood anxiety: Tessa Reardon (PCLS) spoke to the Voice of Islam commenting on research suggesting that "almost two thirds of children worry 'all the time'".
UoRM receives award: The Iskandarian reports on an award given to University of Reading Malaysia campus for two shared-value strategy projects. Professor Tony Downes is quoted.
Other coverage:
<!--[if !supportLists]-->· Construction Management and BIM+ cover comments by Dr Dragana Nikolic (SBE) on how VR could be the future for construction.
<!--[if !supportLists]-->· Comments by Prof Ian Jones (BioSci) in Asiaone about cases of NCoV.
<!--[if !supportLists]-->· Dr Paul Luna (Typography) is quoted in article on President Trump's use of all caps on Twitter, in the Oakland Press.
<!--[if !supportLists]-->· GetReading covers Dr Paul Williams' research on climate change and turbulence, following a speech to leading insurers in January.
<!--[if !supportLists]-->· FT China carries a rerun article about HBS' music industry MBA.
<!--[if !supportLists]-->· <!--[endif]-->Guest blog on the Victoria and Albert Museum website mentioning 'Giving Voice to the Nation', a joint project between V&A museum and UoR.
<!--[if !supportLists]-->· UoR students volunteered in an Environment Agency pick litter which was reported in Slough Express.