Droughts in Syria, EU-Canadian trade deals, and invisible paint: Reading in the news - 16 Feb
16 February 2017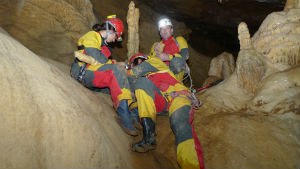 Syrian droughts: New research by Prof Dominik Fleitmann and Dr Pascal Flohr (Archaeology) has found that previous climate models may be underestimating the severity of droughts likely to hit the region around Syria, in the Daily Mail. Read our news story here.
John Bercow: In a Spectator article, Matthew Parris comments on answers from John Bercow made at the University of Reading about voting in the EU Referendum. Watch a presentation given by Matthew Parris at UoR in 2016 here.
EU-Canada trade deal: Dr Andreas Hoepner (HBS) spoke on BBC Business Live about a trade deal between the European Union and Canada which has been backed by the European Parliament.
Autism research in India: BBC Berkshire covered the announcement that Dr Bhismadev Chakrabarti (PCLS) has been awarded a grant by the Medical Research Council to look at low cost screening techniques for use in India.
Mixed reaction to Brexit plans: Article in Food Manufacture mentions a briefing paper presented by Emeritus Prof Alan Swinbank (Agri) at Chatham House in January 2017. Read our news story here.
Invisible theft-proof paint: The University of Reading has helped Historic England to test masonry in North Warwickshire following the application of an invisible paint to stop thieves stealing the stonework, on BBC Radio Coventry and Warwickshire.
Ted Malloch: Parliament Magazine covers comments by MEP's suggesting that Prof Ted Malloch (HBS), US President Trump's likely pick for the role of Ambassador to the European Union, is "unfit" for the job.
In other news:
· TRT World cover an exhibition documenting the 500 year history of robots, including comments by visiting professor Kevin Warwick.