Ladybirds, prehistoric goats, and Zealandia: Reading in the News - 20 Feb 17
20 February 2017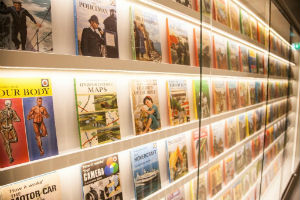 Syrian droughts: Phys.org cover research by Prof Dominik Fleitmann and Dr Pascal Flohr (Archaeology) which has found that previous climate models may be underestimating the severity of droughts likely to hit the region around Syria. Read our news story here.
Ladybird book gallery: The launch of a gallery displaying more than 20,000 illustrations from the Ladybird book series at MERL is covered in GetReading's What's On. Read our news story here.
Vitamin D: Dr Danny Commane (Food) spoke to BBC Berkshire following suggestions that Vitamin D supplements could combat more than three million cases of cold and flu.
Autism research in India: Dr Bhismadev Chakrabarti (Psychology) spoke to BBC Nottingham (1:17:00 in) about receiving a grant by the Medical Research Council to look at low cost screening techniques for use in India. Read our news story here.
Origins of animal-human diseases: Research looking at early animal domestication and the origins of zoonoses, diseases transmitted from animals to humans, is covered in MRCVS. Includes comment from Dr Robin Bendrey (Archaeology).
Importance of good typefaces: The Suburban covers a new book on the importance of type design. The book, Digital Fonts and Reading is co-authored by Dr Mary Dyson (Typography).
LGBT+ heritage: A project researching the Wolfenden Report, which lead to the decriminalisation of homosexuality, will be turned into an exhibition and series of events at UoR, reports Miltech. The article notes that Lord Wolfenden, the chair of the group who wrote the report, is a former Vice Chancellor of UoR.
Art festival: BBC Berkshire covered a new project as part of Reading International art festival, which is a £1m collaboration between UoR, Reading Borough Council and Arts Council England. Read our news story here.
Shinfield relief road: Coverage of a bypass in Shinfield which will be opened in spring 2017, being delivered by the University of Reading and contractor Hochtief, in GetReading and BBC Berkshire.
In other news:
<!--[if !supportLists]-->· Professor Dominik Fleitmann (Archaeology) spoke to BBC local radio stations about Zealandia, which some scientists suggest is an eight continent underneath New Zealand.
<!--[if !supportLists]-->· Further coverage of research from the University of Reading found that part-time work and bridging jobs could support older workers to improve wellbeing as they move into retirement, on Heart Berkshire.
<!--[if !supportLists]-->· BBC Berkshire mentions a job advert for a chocolate taster at Mondelev, based at the University of Reading.
· Dr Jeremy Spencer's research into the positive effect of champagne is mentioned in a Coventry Telegraph article on a new drink containing Prosecco and Pinot Grigio wines.