Why we eat more when it's cold and demystifying the 'pain matrix' theory – Reading in the news Thursday 23 Feb
23 February 2017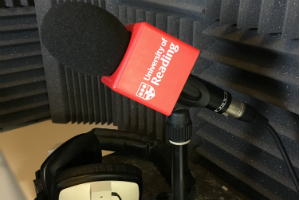 Wild blueberries can boost young people's mood: Consuming flavonoid-rich foods such as wild blueberries can have a significant positive effect on young people's mood, a University of Reading study has found. BBC World Service interviews Prof Shirley Reynolds (Psychology), while BBC Radio Scotland interviews Katie Barfoot, doctoral researcher in Psychology at UoR. BBC Wales, BBC Newcastle, BBC Radio Northampton, BioPortfolio, Times Union, Families Online and Danish website SondagsAvisen also cover the news.
Eating more in cold weather: Dr Gunter Kuhnle (Food) provided expert comment for this short article in The Daily Mail's Good Health section on why we tend to eat more when the weather is cold. (print only)
Teaching methods in schools: Dr Helen Bilton (IoE) speaks to BBC Radio Berkshire on the challenges that school heads currently face, especially with regards to school performance and the testing culture in schools today.
Atmospheric rivers: Tuesday's article in International Business Times UK on why atmospheric rivers lead to extreme rainfall and extreme winds is syndicated on Yahoo UK News. Features expert comment from Prof Richard Allan (Met). Tech Times has also written a version of this article, including quotes from Prof Allan.
John Bercow: Business Insider covers the failed motion to oust House of Commons Speaker John Bercow, referencing his visit to the University of Reading where he admitted to voting remain in the EU referendum to Politics students.
The 'pain matrix' theory debunked: Dr Tim Salomons (Psychology) lead a research paper, covered by True Viral News, which has found that people who don't feel pain still respond to stimulus, regardless of whether or not they actually feel the sensation.
Executive talent search: Prof Andrew Kakabadse (Henley Business School) wrote an opinion piece for HR Magazine on the topic of hiring executives.
Renewable energy: The Institute for Environmental Analytics (IEA) is leading a new energy project, RE-SAT, in Seychelles, reports Seychelles Broadcasting Corporation's main evening TV news (French language). Read the IEA news story.
Syrian droughts: New research by Prof Dominik Fleitmann and Dr Pascal Flohr (Archaeology) has found that previous climate models may be underestimating the severity of droughts likely to hit the region around Syria, in the Archaeology News Network. Read our news story here.
US Defence Secretary: US Defence Secretary, James Mattis, cites Prof Colin Gray as 'the most near-faultless strategist alive', reports Foreign Policy.
Other coverage:
The University's partnership with private accommodation provider UPP is cited as the largest deal of its kind in the UK, according to JLL.
Reading is listed as the top UK university for producing real estate graduates, according to The Requirementalist.