International Study and Language head recognised in New Year Honours
03 January 2017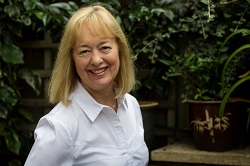 Professor Rosalind Richards has been recognised with an OBE in the New Year Honours list for services to language support for international education.
Richards, who is head of the International Study and Language Institute at the University of Reading, will receive an Order of the British Empire for her 20 years of work in Reading which included the creation of the International Study and Language Institute.
Prof Richards said on hearing the news of her OBE:
"It's wonderful to see the field I work in recognised. As a sector, we are encouraging the globalisation of higher education by providing high quality language support for students to achieve their academic potential when studying in another language, whether that be in the UK or overseas. Moreover, at the University of Reading we are developing transnational higher education partnerships across the world for which local capacity building is very often crucial to the sustainability and success of these ventures. I am deeply honoured at a personal level to have been awarded an OBE for my part in this work."
Mr Vincenzo Raimo, Pro-Vice-Chancellor (Global Engagement) said:
"Ros has been an incredible ambassador for internationalisation in UK universities. She has developed and led the University's highly successful International Study and Languages Institute promoting the study of other languages and international study and supporting international students' transition to studying in the UK.
"Ros' OBE is a richly deserved honour for her achievements for the University of Reading but also for education global engagement more broadly."