Gigantic iceberg and spiral graph wizardry - Reading in the news Mon 9 Jan
09 January 2017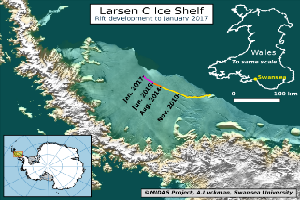 Here is a round-up of the latest media coverage featuring the University of Reading.
Giant iceberg: Professor Jonathan Gregory explained to BBC Radio Berkshire the implications of a piece of ice sheet a quarter the size of Wales expected to break off from Antarctica.
Potent methane: Research that shows methane is more potent a greenhouse gas than previously thought was discussed by Professor Ellie Highwood on BBC Radio Berkshire. This was also reported by Heart Radio. Read our story here.
Screen time: A worldwide group of psychology academics wrote an open letter to The Guardian arguing against a previous letter that suggested childhood health and wellbeing is suffering due to 'screen-based lifestyles'.
Business tycoon: Former University Chancellor Sir John Madejski opened up about his childhood and building his business empire in an interview with The Telegraph.
St Patrick's Hall: Get Reading reported the University's plans to put new designs for St Patrick's Hall on public display this week, on the back of a blog by Rob Wilson MP on the old plans being withdrawn.
Spiral comment: Spiral graph master Dr Ed Hawkins commented on one created in Manchester, showing the drop in global sea ice levels, in Why4News. His global temperature rise animation was also used in the piece.
Other coverage
The MERL was reviewed by the Museums Association, following its multi-million-pound redevelopment
BBC Berkshire heard how two record shop owners are looking through records, including University archives, for information on bands that played in Reading between 1966-76, including Pink Floyd at the University before they were famous
A question submitted to The Saturday Briefing: Knowledge is Power in the Express, asking what the oldest word in the English language is, was answered using Reading University research