University to rename buildings in honour of inspirational figures
11 January 2017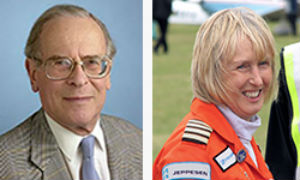 Two inspiring figures will be honoured at the University of Reading next year following the renaming of the Food Biosciences Building and Systems Engineering Building.
Home to the Department of Food and Nutritional Sciences and the School of Pharmacy, the Food Biosciences Building will be renamed in memory of Professor Harry Nursten, eminent food scientist who passed away in 2011.
Harry was integral to the pursuit of food sciences at the University of Reading. As Head of the Department of Food Science he instigated the creation of the Food Biosciences Building in 1985 following the merge of the National College of Food Technology, Weybridge and Whiteknights campus.
Harry demonstrated a deep commitment and loyalty to his students, his department and the University. His lifelong passion for science was such that through his retirement in 1992 all the way to 2011 when his health began to fail, he could be seen almost every day at his desk in the Department or in the Library.
Professor Richard Frazier, Head of Food and Nutritional Sciences, said: "Harry Nursten was a major force in establishing the character and profile of the Department of Food and Nutritional Sciences as we know it today, both as a Head of Department and in his retirement as Emeritus Professor of Food Science.
"He possessed an inspiring dedication, extending well into retirement, to sharing his knowledge and wisdom with anyone who wished to ask of it. I count myself amongst the many whose careers owe much to his example and encouragement. It is a very fitting recognition of his legacy that we remember his name in this way."
Across campus, the Systems Engineering Building will be named in honour of accomplished aviator Polly Vacher, MBE, a former student of the University of Reading. The building houses the Department of Computer Science, the Department of Biomedical Engineering and the Knowledge Transfer Centre.
Polly has become renowned for completing long-distance solo flights in small single-engine aircrafts. She entered the history books in 2001 after completing a solo eastbound circumnavigation of the world in her Piper PA-28 Cherokee Dakota. In 2004, she became the first woman to fly solo over the North Polar regions, flying over the North Pole, Antarctica and all seven continents.
In 2002 Polly was awarded an MBE for services to charity. She is based in Oxfordshire and continues to take part in international flight challenges.
Dr Giuseppe Di Fatta, Head of the Department of Computer Science, said: "We are delighted that our building is being renamed after Polly Vacher. She is a marvellous example of what makes human beings so special and unique. She also provides a beautiful metaphor for scientific investigation: undertaking challenges never attempted before and reaching unique achievements with a strong determination, a solid preparation and an unconditional passion for our endeavours.
"Her name on our building will be a constant reminder to our staff and students that we must believe in ourselves and in our vision."
The announcement follows plans to rename the HumSS Building after Professor Edith Morley, who was appointed Professor of English Language at Reading in 1908 and is believed to be the first woman awarded the title of professor in a British university.
The selection of these three figures comes as the University looks to inspire students with influential personalities from its own past and the surrounding local area. The buildings will be formally renamed this year between February and March.