The future of snowstorms and THAT Trump press conference - Reading in the news Thurs 12 Jan
12 January 2017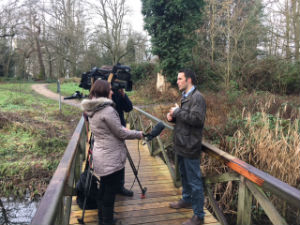 Here is today's round-up of media coverage featuring the University of Reading.
Snow: Professor Ellie Highwood (Meteorology) spoke to BBC Radio Berkshire (1 hr 39 mins 45 secs) about the snow forecast for today and tomorrow, and if we can expect fewer snowstorms in the years to come.
That Trump press conference: BBC Berkshire (2 hrs 6 mins 25 secs) asked Dr Mark Shanahan (Politics) to digest some of the highlights of US President elect Donald Trump's media conference as the world prepares for his inauguration. He also spoke to the Breakfast Show (1 hr 11 mins 25 secs) the following morning on the same topic.
Bird flu: Professor Ian Jones was interviewed on BBC Berkshire (1 hr 22 mins 10 secs) about the latest outbreak of bird flu.
Building investment: Deputy Vice Chancellor Steve Mithen explained on BBC Berkshire (41 mins 30 secs) what the new £50m Health and Life Sciences building will offer to the university. Insider Media also covered the story. Read our news article here.
Winter birds: ITV Meridian ran a TV report on a study by Dr Tom Oliver (Biological Sciences) on the threats of climate change and habitat loss facing birds and butterflies. BBC World Service (48 mins 17 secs) also interviewed Dr Oliver on the report's findings. Read the story here.
Book prize: The Bookseller reports on the shortlist for the Jewish Book Prize, judged by University of Reading Professor of Modern Literature Bryan Cheyette.
Other coverage:
Farming Life reported on efforts to reduce sheep lameness, using the University of Reading's Footrot model
GetReading mentioned Reading research on the health benefits of cycling among older people in a story about a new cycle route in the town. Read our story here