Will university professor be Trump's new EU ambassador? - Reading in the news Mon 16 Jan
16 January 2017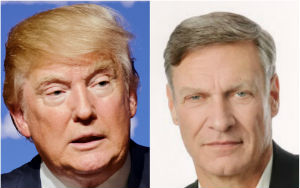 Here is Monday's round-up of media coverage featuring the University of Reading.
Trump's new EU ambassador?: Professor Theodore Roosevelt Malloch, professor of strategic leadership and governance at Henley Business School, was interviewed on the Today programme on BBC Radio 4 (1 hr 9 mins 56 secs) about Britain's future trade relationship with the US once Donald Trump becomes president. He was also interviewed on LBC radio and by BBC Foyle (21 mins 01 secs). Clips from Professor Malloch's interview were also played on BBC Scotland and BBC 5Live, while his comments were discussed on BBC Radio 2.
Talking birds and butterflies: TalkRADIO interviewed Dr Tom Oliver about his study that warns bird and butterfly species could be lost from the countryside. He told BBC Berkshire (3 mins 55 secs) that buying more food locally could prevent their decline. Read our story here.
Climate change denial: Several Reading climate change experts were among more than 100 to sign a letter to Prime Minister Theresa May calling on her to put pressure on the incoming US president Donald Trump over his climate change policies. Read our story here.
Professor Catriona McKinnon, director of the Leverhulme Programme in Climate Justice also wrote a blog on The Forum entitled 'What is wrong with Donald Trump's denial of climate change?'.
NHS pressure: Dr Simone Magee, Academic Director of Reading's Physician Associates Programme, spoke to BBC Radio Berkshire (38 mins 43 secs) about the rise in demand on the NHS and the need for new doctors.
OJ vs fat: BeverageDaily.com reported on research by Reading and PepsiCo that polyphenols in citrus fruits can counter the effects of fat and therefore improve heart health.
Brexit debate: European Parliament News reports on a debate in London, where Reading's Dr Ruvi Ziegler (Law) spoke about EU rights the UK populations will lose.
Positive career changes: Virgin.com lists its top six tips on making a positive career change, including one from Dr Christian van Nieuwerburgh, executive director of the Centre for Coaching and Behavioural change at Henley Business School.
Bird feeding and pollinators: BBC Radio Newcastle covered Reading research by Professor Simon Potts that warns of a decline in pollinators and advice on how to protect them published in a United Nations report (18 mins 14 secs). Read our story here.
The station also covered research showing feeding birds during the spring could lead to their nests being raided by predators (18 mins 59 secs). Read our story here.
Other coverage: