Expert comment: Record hottest 2016 'entirely expected'
18 January 2017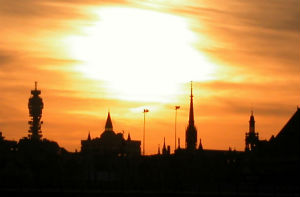 A third record hottest year in a row has been recorded for 2016, as scientists warn temperatures will only continue to rise unless the world steps up efforts to tackle greenhouse gas emissions.
Figures released today by the Met Office, Nasa and Noaa show the average global surface temperature for 2016 was the highest ever, making it three record years in a row. The average surface temperature was 0.94 degrees Celcius above the 20th century average.
Climate change experts at the University of Reading reacted to the news by saying the temperature rise was predictable given the increase in harmful emissions in recent decades.
While they do not expect 2017 to produce another record temperature, they warned that there will be many more in the future if action is not taken fast.
Dr Ed Hawkins, climate scientist at the University of Reading, said: "Global temperatures in both 2015 and 2016 were boosted slightly by the El Niño, but as the effect of this fades we don't expect 2017 to make it four record years in a row.
"However, we'll keep getting record temperatures in future as long as greenhouse gas emissions keep rising. The power is in our hands to stop this happening."
Professor Richard Allan, professor of climate science at the University of Reading, said: "Inexorable increases in global surface temperature, diminishing Arctic sea ice and rising sea level over recent decades are entirely expected outcomes of the continued emissions of greenhouse gases by energy-intensive human activity."