University announces first tenants of Thames Valley Science Park
19 January 2017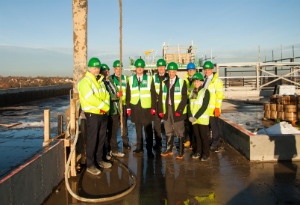 An innovative cluster of technology-led companies has been announced as the first tenants of the Thames Valley Science Park.
The 'Gateway' building at the University of Reading's Thames Valley Science Park is expected to open in August this year and will provide 70,000 square foot of specialist space for innovation led and technology based companies. Approximately 20 companies are expected to fill the building, including:
The announcement comes as the final piece of concrete was laid for the roof of the Thames Valley Science Park's first building. The 'topping out ceremony' represents a key milestone in the construction of the 'Gateway' building.
In addition, Proton Partners International Ltd will begin construction work early this year on an innovative cancer treatment centre that will offer proton beam therapy, a specialised type of cancer treatment that is not yet available in the UK.
Phase two plans underway
The University is now making plans for the remaining 600,000 square foot of the Science Park site and has just submitted an application to Wokingham District Council for outline planning. The University has also agreed to commission design of a further building on the site, which is expected to be completed in late 2018.
Sir David Bell, Vice-Chancellor of the University of Reading, said: "The Thames Valley Science Park is the first of its kind in the region, and a sign of the University's commitment to investing in the local economy. We are proud to announce this wave of highly innovative technology companies as among our first tenants of the Science Park."
Dr David Gillham, Director of Thames Valley Science Park, said: "It is great to see such fantastic progress being made on the first phase of the Thames Valley Science Park. We look forward to welcoming our first tenants later this year as our community of innovative, technology-based companies begins to come together."
Adam Hale, CEO of Fairsail, said: "Our new home at the Thames Valley Science Park will give us modern and flexible work space with fantastic facilities. We've enjoyed collaborating with the University during our time at the Reading Enterprise Centre and look forward to continuing that relationship when we move to the Science Park."
The Thames Valley Science Park will eventually deliver approximately 800,000 square foot of flexible laboratory and office space in a campus style setting designed to encourage collaboration. Once completed, the Science Park will have the potential to provide up to 5,000 new jobs.
The initial investment in the 'Gateway' building is £35 million, which includes investment of more than £30 million from the University of Reading and £5 million from the European Union's European Regional Development Fund.
For more on the Thames Valley Science Park, visit www.tvsp.co.uk.