A tale of two presidents: Reading in the News - 23 January 2017
23 January 2017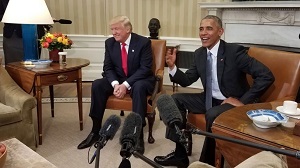 Obama's and Trump's presidencies: Further coverage of an interview with Dr Tom Long (Politics and IR) by the Press Association on about the outgoing President's legacy, in Yahoo News and the National Student. Meanwhile The Times and Daily Mail mention Professor Ted Malloch (HBS) in coverage of newly inaugurated President Trump and the relationship between UK and the US. Finally, Dr Mark Shanahan (Politics) spoke to BBC Radio 5 Live (2hr 40 min in) about the possibility of a UK-US trade deal.
Global temperatures: Comments by Prof Richard Allan about a study of historic global warming and the warning signs for potential sea level rise quoted in the Times of India, Tech Times and Inquisitr and other international titles.
Noam Chomsky to visit University of Reading: A Herald Scotland story with comments from Professor Noam Chomsky includes news that he will be visiting Reading in May this year. Read our news story here.
Thames Valley Science Park: Coverage of the topping out ceremony and the first tranche of tenants to move into the Thames Valley Science Park in GetReading. Our story is available to read here.
Innovation in the food industry: Food Manufacture cover news that UoR will play a leading role in a major food innovation project. Read our release here.
Brexit farming inquiry: Global Miller reports on a House of Lords inquiry into the implications of Brexit on UK agriculture. Professor Alan Swinbank (Agri) will speak in first committee session.
In other news:
·

BBC South Today spoke to Dr Maarten Ambaum (Met) about the awarding of a grant at the Abu Dhabi Sustainability Week 2017 for research on the electrical properties of clouds and on rainfall modelling. The full story is on our website.
·

UoR Anglican Chaplain Revd Mark Laynesmith spoke to BBC Berkshire about a dedication service for a student who died last term.
·

GetReading reports on local cycling lane work and mentions Cycle BOOM study.
·

Phys.org cover research on motivation and climate change-induced turbulence.
·

UoR-provided two day course on property development launched at the Home Builders Federation, in Mortgage Introducer
·

Feature on an ICMA graduate who successfully turned around an international school in India, in YourStory.
·

Display of former UoR lecturer and artist Ray Atkins' work at Reading Museum, in Maidenhead Advertiser
·

Transform Magazine article on shortlisted organisations for their 2017 brand awards. UoR are up for several awards including 'best brand evolution'.
<!--[if !supportLists]-->