A Wall, the Euro, and climate change targets: Reading in the News - 26 January
26 January 2017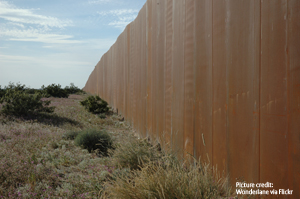 Trump's wall: Dr Tom Long (P&IR) spoke to BBC News channel and Dr Mark Shanahan (P&IR) also spoke to BBC Radio Wales about President Trump's executive order signed yesterday which signals the start of a 2000 mile wall on the US-Mexican border. See Dr Long's expert commentary on President Trump and Mexico here.
…and his newest ambassador? Prof Ted Malloch (HBS) spoke to BBC Radio 4, as he is widely tipped to become the next ambassador to the EU. His comments on the Euro are also reported on BBC World Service, BBC 5 Live (and local radio stations), BBC News website and Express.
Climate change targets: Dr Ed Hawkins (Met) spoke to BBC News Channel and BBC Radio Berks about news that global temperature rise may be closer to the limit recently imposed by world leaders than previously thought. Further reporting in Climate Central, Grist, and read our news story here.
Brexit farming inquiry: Irish Farmers Journal and BBC Radio Shropshire reports on a House of Lords inquiry into the implications of Brexit on UK agriculture. Professor Alan Swinbank (Agri) gave evidence in the first committee session held on Wednesday 25th Jan.
Threat to winter birds: Further coverage of a study led by Dr Mark Fellowes showing some bird and butterfly species are disappearing thanks to a combination of climate change and habitat loss was covered widely, in BBC Wildlife.
Burnt toast: Comments by Prof Don Mottram (Food) in the New York Post, and other titles on the latest FSA guidance about home cooking and avoiding carcinogenic substance acrylamide. See further expert commentary from UoR here.
Building diverse teams: Prof Nick Kemsley (HBS) is quoted in an article with tips on how to build diverse teams in organisations, in Real Business.
Also in the news
University of Reading mentioned in article about the town being awarded a purple flag for its evening and night-time economy, reports Business Mag.
UoR Art graduate Mary Napper-White is displaying some of her painting, according to the Ludlow Advertiser.