Trump's travel ban and 'special relationship' with UK - Reading in the News Mon 30 Jan
30 January 2017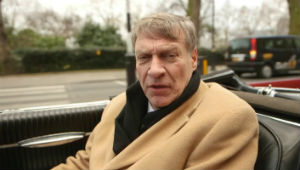 Trump's special relationship: Professor Ted Malloch, from Henley Business School, tipped to be the new EU ambassador for the US, was a panellist on This Week on BBC One (appears in opening , followed by feature after 5 mins 30 secs and debate after 8 mins 24 secs) for an in-depth discussion on what relationship Donald Trump can have with Theresa May/the UK, and the rest of Europe. Professor Malloch was also interviewed on BBC Radio 2 (14 mins 40 secs) on the same subject.
Professor Malloch was also quoted in a Financial Times article on how Europe can avoid falling into Trump's trade trap.
More on May: CTV interviewed Dr Jonathan Golub (Politics and International Relations)following Theresa May's visit to the US, discussing Trump's policies.
Muslim travel ban reaction: Dr Jonathan Golub gave his views to BBC Berkshire (11 mins 43 secs) on Trump's US travel ban for Muslims from certain countries.
Students debate on Theresa May objectives: Eliot Smith, Treasurer of the University of Reading's Conservative Association, gave his views on BBC World Service's World Have Your Say (13 mins 53 secs) what Theresa May should say to Trump, ahead of her meeting with the US President on Friday.
Global temperature rise: African publication Mail & Guardian reports research by Dr Ed Hawkins (Meteorology) looking at where we should measure from when setting global temperature rise targets. Salon.com reports on the same research. Read our story here.
Other coverage: