Goodbye Northern Lights? Impacts of solar activity shift revealed - Reading in the News Tues 31 Jan
31 January 2017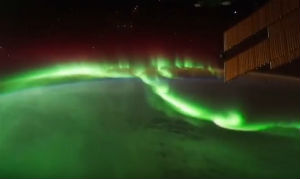 Here is a round-up of the latest media coverage featuring research and expert comment from the University of Reading.
Bye bye Northern Lights?: Mirror Online reported research by Dr Mathew Owens and Professor Mike Lockwood (Meteorology) revealing the UK could lose sight of the Northern Lights within decades, while the Earth may be showered by harmful galactic radiation. Read our story here and watch a video explaining the potential impact on the Earth here.
Money money money: Sky News ran a TV report on the UK's GDP results, and BBC South Today (6 mins 15 secs) on rising levels of personal debt, with Dr Marina Della Giusta (Economics) being interviewed for both. Dr Della Giusta also featured in the BBC Radio Berkshire news bulletins throughout Monday.
Clever robots: A University of Reading robot, which convinced judges it was real and thereby passed the Turing Test in 2014, was mentioned in a feature about artificial intelligence on datanami.com