Venus Awards 2017: Last call for inspirational nominations
24 January 2017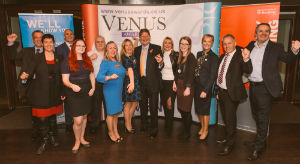 Only days remain to apply for or nominate an inspirational local businesswoman for an award sponsored by the University of Reading.

The NatWest Thames Valley Venus Awards 2017 seek to recognise the contribution of women in business to the local, regional and national economy. There are 15 categories, including Inspirational Woman, sponsored by the University of Reading.

Reading has a history of promoting equality, and was the first British university to appoint a female professor in Edith Morley in 1908. The Humanities and Social Sciences building on its Whiteknights campus will be officially renamed in her honour later in the spring.

The University was recognised for its work increasing career development opportunities for female scientists and promoting diversity in key positions by the Athena SWAN initiative in October.

The Venus Awards – dubbed by Channel 4 as 'The Working Women's Oscars' – were launched in Thames Valley in November 2016 with a ceremony at the University of Reading.

Professor Ellie Highwood, Dean of Diversity and Inclusion at the University of Reading, said: "Universities are places that aim to inspire. Therefore it is particularly relevant that we are sponsoring the Inspirational Woman of the Year Award.

"The University of Reading has a long history of inspirational women, indeed we were the first UK University to appoint a woman professor, Edith Morley, in 1908."

The deadline to nominate a deserving woman - or man in the Employer of the Year category - in this year's awards, in association with Marshall Volkswagen, is 11.59pm on Thursday 26 January. Applications to enter can be made until 11.59pm on 2 February.

For information on how to enter, visit www.venusawards.co.uk/thamesvalley.

More than 1,000 nominations and more than 100 applications have already been received.

The semi-finalists will be announced at an event on Monday 27 February at Marshall Volkswagen, ahead of the awards night at the Madejski Stadium on Friday 9 June.