Space clouds, archaeology and Virginia Woolf - Reading in the news Mon 3 July
03 July 2017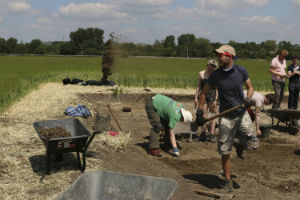 Here is today's round-up of media coverage featuring the University of Reading.
Space clouds: Stories in the Scottish Sun and UK Star on colourful artificial clouds, caused by vapour emitted from canisters launched into space by NASA to investigate aurora winds, which were visible to people in North America mentions research by University of Reading scientists (Meteorology) that shows the Northern Lights could cease to be visible from the UK due to a change in solar activity. Read our story on this research.
Archaeology competition: Wiltshire Times covers a competition by Young Archaeologists' Club for youngsters to win a trip to the University of Reading's Archaeology Field School excavation at Pewsey.
Other coverage
Professor Derek Clements-Croome (Built Environment) is quoted in a report by BESA on an event looking at indoor air quality and its potential impact on health
A new method of improving dairy farming by using satellite data, designed in collaboration with the University of Reading (GES), is reported by Satellite Today
Reading research (Meteorology) showing the movement of harmful solar eruptions is difficult to predict because their structures are different to previously thought is reported by True Viral News, Yahoo News and Indonesian website Kompas.com. Read our news story here.