A grad's best friend – University invites family pet to share graduation celebrations
07 July 2017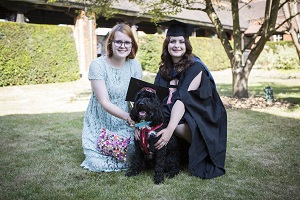 A four-legged special guest was invited to graduation at the University of Reading, allowing one family a precious opportunity to celebrate together.
Art graduate Daisy Evans, 23, was able to share the day with her whole family, including their pet dog Boris, who accompanied her sister Hollie, 19, who has been battling anxiety.
After the Dartford family contacted the University, a special invitation to Friday's ceremony was extended to the four-year-old springer poodle cross. He even wore his own graduation mortar board on the day.
At the height of her anxiety, Hollie did not speak a word for two years, but Boris has made a huge difference to her day-to-day life. His presence at graduation day on Friday 7 July helped Hollie to overcome her nervousness in large crowds, and allowed the family to have their first outing together in nearly five years.
Hollie said: "It's lovely to have Boris here. I get very nervous but he helps as he's a bit of a distraction. He's part of the family so he should be here. Boris comes with me everywhere – he rescued me."
Daisy is the first member on her mother's side of the family to attend university. Parents Ali and Daren were able to watch her receive her degree in the Great Hall at the University's London Road campus.
Ali said: "Everyone at the University has been very kind. When I emailed explaining the situation, I didn't think it would be possible to bring Boris, but they said he was very welcome to come. It has made this a special day for Daisy and all our family."
A University of Reading spokesperson said: "Graduation staff always try to assist students and their guests where possible to ensure everyone attending has the best experience possible. We're delighted to hear the family enjoyed their day and that bringing Boris made such a difference."
Daisy, who studied Art and History of Art, had her work displayed in the University's Fine Art Degree show, Condensed Milk, in June.
Her exhibition, Spoil Heap, will be on display at Wiltshire Museum in Devizes from Saturday 8 July until 3 September. The exhibition was inspired by findings at the University of Reading's ongoing Archaeology project in the Vale of Pewsey, investigating the area round Marden Henge.