Why was there a dog at graduation? Reading in the News Tue 11 July
11 July 2017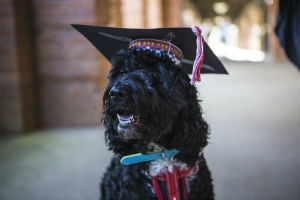 Dog at graduation: The BBC website's seventh most read story on Saturday was about the University of Reading extending an invitation to the pet dog of a family to attend graduation as an assistance dog for a graduate's sister. ITV Meridian ran a TV piece, plus an online story, and BBC London reported the story as its good news story of the day Jack FM also interviewed the mother of the family on Monday. Read our story here.
New cloud: Professor Giles Harrison (Meteorology) was interviewed for the Paul Hudson Weather Show on BBC Radio Humberside (47 mins 50 secs), (plus BBC Radio Leeds, York, Sheffield and Lincolnshire), on his research on one of the latest cloud types (asperitas) to be added to the World Meteorological Organization's International Cloud Atlas. Read our news story.
Immigration problems: Dr Ruvi Ziegler (School of Law) is quoted in an article on BFT Online on African immigrants being hit with a new tax in Israel.
Affordable housing: Professor Neil Crosby (Real Estate and Planning) is quoted in a Guardian article on criticism of Wandsworth Council for reducing the amount of affordable housing in its Battersea Power Station redevelopment.
Language learning: Many local newspapers around the UK, including the Portsmouth News, report on a recent survey that suggested the majority of the English population do not speak any foreign languages. The articles refer to University of Reading research that shows children are more likely to grasp other languages if they are taught them at an early age.
Antiques event at The MERL: TV antiques experts were at a public event at The MERL to value items brought in by members of the public. Jack FM and Heart Radio Berkshire both promoted the event in their news bulletins. Read more about the event in our news story.
Food health benefits: Various articles explore the surprising health benefits provided by foods, as revealed by Reading research (Food and Nutritional Sciences). The Guardian reports that the assumption that coconut oil is healthy could be false, quoting Professor Christine Williams.
Professor Jeremy Spencer's research on chocolate boosting cardiovascular health was mentioned on BBC London (56 mins 45 secs) radio as part of a wider discussion about the health benefits of various food types, and mentioned in articles on India Times and Uncova.com.
EatThis.com reports research that shows blueberries increase cognitive ability.
Other coverage