Archaoelogy discoveries, Malaysia, and Autism research: Reading in the News - 13 July
13 July 2017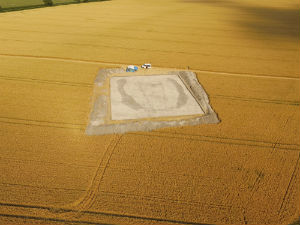 Pewsey burial monument: Further coverage of the discovery of the remains of a Neolithic burial monument in Pewsey Vale by the Archaeology Field School. Dr Jim Leary and Amanda Clarke (Directors, Field School) are variously quoted in Metro, BT News, International Business Times, India Today, RT News, National Geographic Spain, Phys.org, ITV Meridian, BBC South, local papers including the Gazette & Herald, and the Reading Chronicle. Read our news story here.
Turbulence: Telegraph have reported on ways in which climate change will affect air travel, including Dr Paul Williams' research into increased turbulence.
Roman fortlet: Further coverage of the discovery of a Roman fortlet underneath a church in Reedham, in the Eastern Daily Press. Prof Mike Fulford (Arch) is quoted.
Online shopping: Research conducted by Dr Julia Vogt and other academics in the School of Psychology and CLS for Klarna about online shopping. Bullfax and Payment Eye have reproduced the press release.
Cyber bullying: Prof Shirley Reynolds (CWI) is quoted in an article in Stuff NZ reporting on new research into the prevalence of cyber bullying being much less than face-to-face bullying.
UoR Malaysia: A fundraiser held by students from the UoR Malaysia campus successfully raised money for a local nursing home, reports The Iskandarian. Meanwhile, Oxford Business Group reports on the developing position of Malaysia as a destination for Higher Education. The article mentions the University of Reading Malaysia.
Dean Madden: An article in the Reading Chronicle reports from the inquest into the death of former Director of the NCBE, Prof Dean Madden. Read our tribute to Dean here.
Autism research: Spectrum News reports on research conducted by Prof Bhismadev Chakrabarti (Centre for Autism) on the prevalence of Autism in India. Read our news story here. In addition, an article in the Minnesota Post looks at research into inclusive environmental design to help people with autistic spectrum disorder navigate large buildings. The research was conducted by former student Julie Irish.