Did Emperor Nero really fiddle while Rome burnt? - Reading in the news Mon 17 July
17 July 2017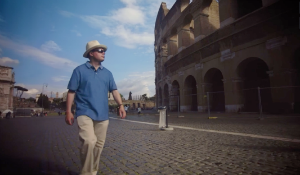 Here is today's round-up of media coverage featuring the University of Reading.
Nero and Rome: Dr Matthew Nicholls (Classics) gave an extensive interview to Australian radio show ABC about the day Rome burned, and why Emperor Nero has been accused of 'fiddling' during the fire or even starting it himself.
Prehistoric monument/art exhibition: Interviews with Dr Jim Leary and Amanda Clarke about a burial monument labelled a 'House of the Dead', being investigated in Wiltshire by the Archaeology Field School, were replayed on Saturday morning on BBC Radio Berkshire (18 mins 45 secs).
BBC Radio Wiltshire (1 hr 31 mins 59 secs) interviewed the director of Wiltshire Museum in Devizes about the Vale of Pewsey dig and an art exhibition at the museum which features exhibits by Art students at the University of Reading who attended the Archaeology Field School last year. The station also played its latest audio diary clip by a student on the dig and promoted the open day being held at the site on Saturday in its news headlines that morning. Read our news story about the dig here.
Serbian Cabinet appointment: Henley Business School/ICMA alumni Milos Popovic has been appointed Chief of the Serbian government Cabinet, reports Sve Vesti (Serbian language).
Air turbulence: Research by Professor Paul Williams (Meteorology) that shows severe air turbulence is going to affect aeroplane passengers far more frequently in coming years due to climate change is reported by Huffington Post as part of an article on a research paper revealing planes will also find it harder to take off as temperatures increase. Professor Williams' paper is also the focus of articles in India Today, Kopitiam Bot, WPRI.com and The Globe and Mail. Read our news story here.
Graduate salaries: City AM reports on the table by Emolument.com that ranks 84 UK universities by the average salary earned by their graduates. Reading ranks at 61.
Retailer engagement: Research by the University of Reading that advises retailers to engage emotionally with their customers is reported by InternetRetailing.net, which quotes Dr Julia Vogt (Psychology).
Art exhibition: The Britlins art exhibition being held in Thames Tower in Reading, part of the Reading International programme of events (Art), is featured in Reading Chronicle's What's On supplement (see attached). Read our news story about the exhibition.
Other coverage