Heavy rain and something to 'delight Ricky Gervais' - Reading in the news Wed 19 July
19 July 2017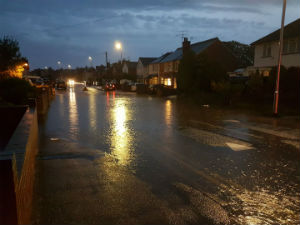 Here is today's round-up of media coverage for the University of Reading.
Heavy rainfall: The University of Reading's weather observation site recorded the most rainfall in the UK on Tuesday night, according to the Met Office. This was reported by Sky News, Kerrang radio and on a number of local radio stations around the country, plus by the Scottish Sun, Express, Sunday Post, Metro, and hundreds of regional online news websites. Dr Rob Thompson (Meteorology) spoke to BBC Radio Berkshire (2 hrs 43 mins 35 secs) and Jack FM about the rainfall records. Read Dr Thompson's blog post on our Connecting Research blog.
'Sutton Hoo of Slough': Dr Jim Leary (Archaeology) was interviewed on BBC Radio 4's Making History programme (23 mins) about a discovery that will 'delight Ricky Gervais' - that Montem Mound in Slough, the setting of The Office, actually dates back to Anglo-Saxon times. Read our news story here.
BBC salary publication: Professor Peter Miskell (Henley Business School) gave his reaction to the publication of the salaries of BBC star presenters to BBC Radio Berkshire (1 hr 36 mins 24 secs), alongside Maria Miller MP, who chairs the government's Women and Equalities Select Committee.
Wiltshire 'House of the Dead': Coverage of the monument dating back 5,600 years, being investigated by the Archaeology Field School, continues on German website Damals and AOL. This is Wiltshire runs a feature about children who won the chance to join the dig. Read our news story.
Other coverage
Sudip Putatunda, founder of ice cream company Koldplay Creamery, studied Food and Science Technology at the University of Reading, reports The Week.
Beverage Daily reports on a taste test carried out by the Flavour and Sensory Science Centre at the University of Reading showing zero-calory, long fibre prebiotics could act as a sugar replacement in food and drink products.
Dutch website Duurzaam Niews reports on the accuracy of climate model predictions, using analysis of recent observations by Professor Ed Hawkins (Meteorology).