Child development and entrepreneurship experts elected to British Academy


21 July 2017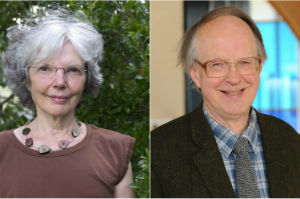 Two Reading academics have today been named as Fellows of the British Academy, the UK's national body for the humanities and social sciences.
Professors Lynne Murray and Mark Casson have been elected as Fellows of the British Academy (FBA) in recognition of their outstanding contribution to research.
Professor Murray is a psychologist whose work on the development of babies and children, and her books The Social Baby, and The Psychology of Babies (winner of the BPS 2015 book award), have had a profound effect on the way parents bring up children. Professor Casson is an economic historian whose study of companies and entrepreneurship is helping shape today's policies on business.
Professor Steve Mithen FBA, Deputy Vice-Chancellor and Pro-Vice-Chancellor for Research and Innovation, said: "Congratulations to Lynne and Mark on their election to the British Academy. This is a well-deserved accolade for both academics, on top of their already highly distinguished research careers."
Professor Murray was recognised for her expertise in the importance of early parent-infant relationships, their role in child development, and for showing parents how they can improve outcomes for their children.
She said: "I feel extremely personally honoured to be elected, but I am particularly delighted as it reflects the British Academy's opinion of the importance of my field of work, and I hope this will enable my colleagues and me to strengthen its impact."
Professor Casson, Director of the Centre for Institutions and Economic History, and Professor of Economics, has been recognised for his study of the economics of business, and theories of entrepreneurship and international business, with historical applications to medieval towns and industries, Victorian railways and twentieth-century multinational firms.
Sixty-six of the world's leading minds were announced as Fellows of the British Academy in 2017, representing the very best of humanities and social sciences research, in the UK and globally.
This year is the second consecutive year that two FBAs have been elected from the University of Reading, following Peter Cooper and Jonathan Dancy in 2016.