Campus Central to become a Co-op
21 July 2017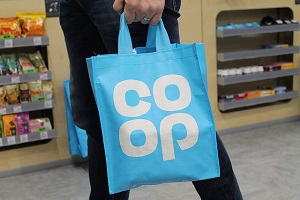 A new Co-op supermarket is set to open on the University of Reading's Whiteknights campus this autumn.
The new store will replace the current Campus Central, which is next to the Palmer Quad – at the heart of campus. A full refurbishment of the shop will see Campus Central close for business from 5pm on Friday 21st July.
The brand new, modern fit-out will take approximately five to six weeks, with the store to open mid-September, ready for the new term. Work is due to start on Monday 31st July.
Students and staff across campus will benefit from the Co-op's £723,000 investment, which is set to bring a wider range of fresh produce, an in-store bakery, healthy foods, meal ideas, hot food and essentials. NUS extra card holders will receive a 10% discount on all goods.
Customers that sign up to Co-op's Membership rewards scheme, at a cost of £1, will receive a further 5% reward into their membership account when purchasing own-branded products and services, with an extra 1% of this going to local good causes, community groups and charities.
In addition, the new store will have extended opening hours, providing more convenience for customers.
Gavin Brooks, Pro-Vice-Chancellor for Teaching and Learning, said: "This is an exciting development for students and staff alike here at Whiteknights campus. Co-op is one of the UK's biggest food retailers and can offer its customers a wide range of fresh, good quality produce.
"Strong ethical values and the discount schemes offered to NUS extra card holders and Co-op members make Co-op the right fit for our campus. It is important that the University partners with organisations that uphold the same values we do, and equally important that we consider the potential impact to the cost of living for our students."
Mark Bright, Co-op Area Manager, said: "We are delighted to have made such a significant investment in the new store, right in the heart of the University's campus. The Co-op is moving forward with a clear purpose and momentum and our ambition is to establish it as a hub for the student community. We want students to know that in addition to savings with their NUS cards, they can become a co-owner and member of their Co-op and that by using their membership card when they shop, they will raise much needed funds for local groups and charities in the area."
Campus Central is currently run by Reading University Students' Union (RUSU), with all profits from the shop going towards services and opportunities offered by RUSU. The University has committed to ensuring that RUSU is not financially disadvantaged by the change of circumstances by providing an increased grant until 2021.
Current Campus Central permanent staff will become Co-op employees and the terms of their contracts remain the same. Student employment opportunities will be available.
A temporary store supplying a limited range of cold drinks, snacks and sandwiches will be run out of Monterey Lounge (inside the main RUSU building) while the fit-out is taking place.