Reducing the risk of dementia, and understanding how much sugar we really eat: Reading in the News - 21 July
21 July 2017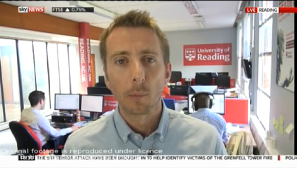 Sugar consumption study: Further coverage in Vice, ITV Meridian and Medical Xpress of a research paper by Dr Gunter Kuhnle (Food and Nutritional Science) that suggests people are eating far more sugar than they realise or admit to. Read our news story here.
Dementia: Dr Mark Dallas (Pharmacy) spoke to Sky News following a new report into lifestyle factors that could reduce the risk of developing dementia.
International education: A new survey by the British Council on countries with supportive international education policies is reported in Newsdog. The article includes a quote from Pro Vice Chancellor Vincenzo Raimo.
Town centre development: BBC Wiltshire spoke to Dr Steve Musson (GES) about the redevelopment of town centres, and the similarities between Reading and Swindon.
Business school funding: HBS African Dean Jon Foster-Pedley is quoted in an article in Business Live South Africa about business schools in the country needing more donor support to match other international schools in research.
PopUp Business school: MetroMBA has run a piece about a summer school hosted by HBS for the fifth consecutive summer.
Sustainable universities: An article for University Business on sustainability in the HE sector includes comments by Matt White, director of catering, who is quoted on food recycling efforts by the University of Reading.