Celebrations as first students graduate from UoR Malaysia - Reading in the news Mon 24 July
24 July 2017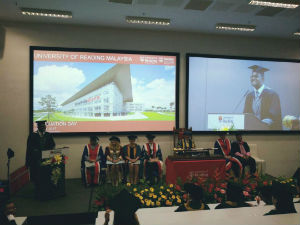 Here is the latest round-up of media coverage featuring the University of Reading.
Sugar consumption: Dr Gunter Kuhnle (Food and Nutritional Sciences) appeared on You and Yours on BBC Radio 4 (34 mins) to talk about his research showing people eat more sugar than they realise/admit to, complete with comments from members of the public surveyed on the street about how much sugar is in certain food products. Read our news story.
Atmospheric rivers: Reading research on atmospheric rivers (Meteorology), and how one helped end a drought in California, features in an article on Benito Link
UoR Malaysia graduation: The first ever graduation ceremony to be held by Henley Business School at the University of Reading Malaysia is reported by Malaysian newspaper The Star. Read our news story here.
Other coverage
The Conversation runs an article on how homosexuality was partially decriminalised in 1967, thanks to the work of former Vice-Chancellor at the University of Reading Lord John Wolfenden. Read our story published before this year's inaugural Wolfenden Lecture.
Research by Professor Philippa Darbre (Biomedical Sciences) on chemicals contained in deodorant products that could potentially cause health problems, features in an article entitled '5 things wrong with your deodorant' on True Viral News.
An art exhibition in Wiltshire entitled Spoil Heap, featuring work by student artists who were inspired the University of Reading's Archaeology Field School, is listed on hievents.co.uk
A report on the latest conference by the Henley School of Coaching appears on Training Journal
Research (Meteorology) showing climate change could increase severe turbulence for aircraft is reported by Yale Climate Connections. Read our news story here.
A clip from an interview with Professor Giles Harrison (Meteorology) about how clouds form on the Paul Hudson Weather Show was repeated on Saturday's show on BBC Radio Humberside, Leeds, York and Sheffield