'Unjustly forgotten' actor that brought Beckett's writing to life to be honoured at birthplace
26 July 2017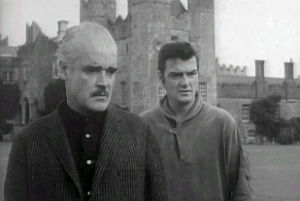 An unmistakable, and often controversial, figure who was Samuel Beckett's favourite actor will be memorialised with a plaque at his former home in Northern Ireland, thanks to a campaign supported by the University of Reading.
Patrick McGee, known professionally as Patrick Magee, was recognisable for his distinctive cracked, Irish voice and chaotic personal life. He starred in several of Beckett's plays, as well as prominent films such as A Clockwork Orange.
Following a campaign to have Magee's work more widely recognised, funding was secured for a blue plaque to be placed at his birthplace in Edward Street, Armagh, on Saturday 29 July. The campaign was supported by Dr Conor Carville, whose research on Magee has drawn on letters sent to the actor by Beckett, as well as the University of Reading's Samuel Beckett Collection - the world's largest collection of materials relating to Beckett.
The plaque will be unveiled by Oscar-nominated actor Stephen Rea at midday. Guests from stage and screen will gather to hear tributes from Magee's son and daughter, and from two people who formerly worked with him: actor, novelist and screenwriter, Shane Connaughton and actor and director, Sam McCready.
"The persona he had off-stage was that of a hell raiser, and this blended into the roles he was cast in" - Dr Conor Carville, University of Reading
Other supporters of the campaign, led by the Ulster History Circle, were Armagh City Banbridge & Craigavon Borough Council and the John Hewitt International Summer School.
'An important and unjustly forgotten figure'
Dr Carville, who is also working on the official biography of Magee, said: "Patrick Magee is a very important and unjustly forgotten figure who represents an important aspect of the cultural ferment of the 1960s and 1970s in Britain.
"The persona he had off-stage was that of a hell raiser, and this blended into the roles he was cast in. He was at the forefront of theatrical and cinematic experiment of the time, and yet, as a BBC stalwart on both radio and TV and a West End actor, he was also ensconced in the mainstream.
"As well as this, his immersion in the new British horror genre meant he moved in underground circles. My research has revealed an undercurrent of desperation in his career, as he took on such roles for the income they provided.
"It is this multifaced character that makes Magee a lightning rod for the tensions and contradictions of his era. My book aims to tell the cultural history of London from 1955 to 1980 and Magee's career is the perfect optic through which to view it."
Avant-garde bad-boy
Magee moved to London from Ireland in 1954 and became a pioneer in the interpretation of Beckett's radio work at the BBC. After hearing a recording of him in 1958, Beckett wrote his classic play Krapp's Last Tape specifically for Magee.
The avant-garde phase of his career reached its pinnacle in 1971 when he starred in Stan Kubrick's A Clockwork Orange, which was famously withdrawn from presentation after heated debate over its depiction of violence.
Despite his fame as 1960s avant-garde bad-boy, Magee struggled financially, due to his addictions to alcohol and gambling. As a result he often appeared in the low-budget British horror and exploitation films of the 1960s, many of which are now cult classics. His sinister performances in films like Demetia 13, The Masque of the Red Death and Demons of the Mind led to him being actively sought by European directors like Walerian Borowyczk and Lucio Fulci in the 1970s to appear in their provocative films.
"Playwright Samuel Beckett regarded him as the best, and film director Stanley Kubrick regularly sought out his exceptional talent" -

Chris Spurr, Ulster History Circle
Magee was eventually sacked from Beckett's play End Game in 1976 after gaining a reputation for being unreliable due to his alcoholism. However, Magee remained a firm favourite of Beckett's, and he continued to write to Magee to enquire about his health for years afterwards.
Magee also had a political side. A convinced Republican, he had strong views on the situation in his native Northern Ireland. Like Vanessa Redgrave and Glenda Jackson, both of whom Magee worked with, he was also an active campaigner on the issues of the day. He was central, alongside Jackson, in persuading Equity to boycott apartheid South Africa in 1976.
Magee, who was married and the father of twins, died of a heart attack at his London flat on 14 August 1982, aged 60.
As well as the extensive Samuel Beckett Collection, Dr Carville's research on Magee has drawn on Beckett's letters to Magee and his wife held at Trinity College, letters between Magee and Pinter held at the British Library, the BBC archives in Caversham, near Reading as well as the V&A Theatre and Performance Collections in London.
Chris Spurr, Chairman of the Ulster History Circle, said: "Patrick Magee is acclaimed as an actor of distinction, on stage and screen alike. Playwright Samuel Beckett regarded him as the best, and film director Stanley Kubrick regularly sought out his exceptional talent. Thirty five years after his death in 1982, the Ulster History Circle is delighted to commemorate Patrick Magee with a blue plaque at his birthplace in Armagh."
Timeline of Magee's acting career
1954 After years touring Irish provincial theatres alongside future Nobel Prize-winning English playwright Harold Pinter, Magee moves to London and becomes a pioneer in the interpretation of Beckett's radio work at the BBC
1957 Magee meets Samuel Beckett, who tells him of his admiration for his distinctive voice
1958 Beckett's play Krapp's Last Tape, written especially for Magee, is first performed at the Royal Court Theatre in London in October 1958. The play was later broadcast on BBC television in 1972, also starring Magee.
1960 A 38-year-old Magee plays the role of Barrows in The Criminal, which starred Stanley Baker – his first film appearance
1961 Stars in Tom Murphy's violent and controversial A Whistle in the Dark, described by The Times as an example of a new 'Theatre of Cruelty'
1964 Plays Suregon James Henry Reynolds in the Cy Endfield film Zulu
1964 Magee joins the Royal Shakespeare Company after Pinter requested he play the role of McCann in his play The Birthday Party.
1964 Magee consolidates his reputation as the foremost actor of the new avant-garde theatre by taking the main role in all four of the highly contentious so-called 'Dirty Plays' at the Aldwych. This included Peter Brook's Marat/Sade, another play that was dubbed 'cruel' by an outraged press.
1971 Magee plays Frank Alexander in Stan Kubrick's A Clockwork Orange
1976 Sacked from Beckett's play End Game for being unreliable
1981 In one of his final film appearances before his death, Magee plays Lord Cadogan in Chariots of Fire