'Hell-raiser' actor remembered - Reading in the news Fri 28 Jul
28 July 2017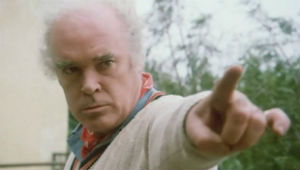 Here is the latest round-up of media coverage featuring the University of Reading.
Commemorating 'unjustly forgotten' actor: The Belfast Telegraph runs a feature on Northern Irish actor Patrick Magee, who will have a blue plaque unveiled at his birthplace on Saturday, thanks to a campaign supported by the University of Reading. Dr Conor Carville (English Literature) is quoted. The story has also been run by Armaghi.com. Read our news story here.
Reducing cow methane emissions: BBC South (15 mins 26 secs) ran its TV piece filmed at Hall Farm with the University's Centre for Dairy Research on how changing cow feed could reduce their methane emissions and even reduce the amount of fat in their milk.
Other coverage
Professor Jonathan Gregory's (Meteorology) appointment as a Fellow of the American Geophysical Union (GPU) is reported by the LA Daily Post
Nutraceutical Business Review reports the Reading research (Food and Nutritional Science) that blueberries have been found to promote positive moods among young people. Read our news story.