Expert comment: Trump pulls United States out of Paris climate change agreement
01 June 2017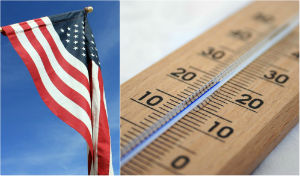 Academics from the University of Reading have provided expert reaction to the announcement that US President Donald Trump will pull the US out of the Paris Agreement on climate change.
The Paris accord, signed by 195 out of 197 countries in 2015, laid out an agreement to unite international efforts to reduce the impact of climate change on the planet. Among other targets, it stated the aim of keeping global temperature rise to below 2C above pre-industrial times, and below 1.5C if possible.
Prof Mike Lockwood FRS, Professor of Space Environment Physics at the University of Reading, said:
"Science and its application in engineering has brought humankind untold benefits that are easily taken for granted: life-saving drugs, medical scanners, affordable entertainment and communications, energy technologies, safer and faster transport, weather- and pest-resistant crops, fertilisers, clean water, vaccinations, defences against natural hazards. All this - and much, much more - has been made possible by placing evidence at the centre of decision-making and so replacing superstition with science.
"The biggest danger that humankind now faces is that science is being replaced by political dogma - and in the case of climate science the results have the potential to be catastrophic."
Professor Chuks Okereke, professor of environment and development and co-director of the Levehulme Programme in Climate Justice at the University of Reading, said:
"It is morally repugnant that Trump has pulled out of the global climate agreement. The US is one of the most significant contributors to climate change which is having devastating impact on poorer countries. The US has a moral obligation to join forces with the rest of the world, and in fact take a leading role, in tacking climate change under a global agreement.
"Some developing countries could consider suing the US in the International Court of Justice for climate-related damage if Trump pulls the US out of the Paris Agreement."
Catriona McKinnon, Director of the Levehulme Programme in Climate Justice at the University of Reading, said:
"For Trump to pull the US out of the Paris Agreement would be a crime against humanity, in the full sense of that term. Now that this has happened, the rest of us must make heroic efforts to force our leaders to make up for the damage, if there is to be any hope left.
"Trump's action has put the burden of tackling climate change on to the shoulders of all the other parties to the Paris Agreement, and yet the US will continue to benefit from the mitigation and other efforts of those parties under the Agreement itself. This is deeply unfair and unjust."