Just how much meat should be in a meat pie? - Reading in the News Wed 7 June
07 June 2017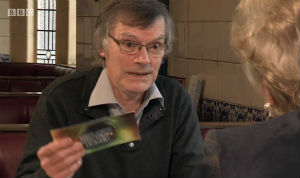 Here is today's round-up of media coverage of the University of Reading.
Childhood anxiety debate: Professor Cathy Creswell (Psychology) was part of a discussion panel on BBC Radio 4 talking about childhood anxiety and the issues this poses for parents. She spoke alongside Professor Thalia Eley from the Institute of Psychiatry's MRC Social, Genetic and Developmental Psychiatry Centre at King's College London, and a mother to speak about her own experiences.
Meat pie laws: Dr David Jukes (Food and Nutritional Sciences) featured on Episode 7 of the new series of Rip Off Britain on BBC One (22 mins) on Tuesday to explain the laws governing how much meat a pie must contain for it to officially be called a meat pie. This programme was repeated on BBC Two on Wednesday morning.
History of democracy: Dr David Carter, Teaching and Learning Dean (Classics), shared his expertise on Ancient Greek politics in a BBC Radio Berkshire (1 hr 52 mins 25 secs) feature on the origins of democracy, following a number of terrorist attacks that appear to strike at these Western values.
Cloud science: An explanation of the science behind one of the newest cloud formations to be recognised in the World Meteorological Association's International Cloud Atlas, the subject of a newly published study by Reading scientists (Meteorology), is reported by Atmospheric Sciences news.
Grammar schools debate: Dr Helen Bilton (DoE) spoke on BBC Radio Berkshire (14 mins 20 secs) about why opinion is so divided on grammar schools, and the impact some feel they have on other mainstream schools.
Crossrail impact: Dr Steve Musson (GES) discussed the effects the new Crossrail line will have on Reading and the wider area on BBC Berkshire (25 mins 50 secs).
Other coverage
Angel News reports that Henley Start-Up Business Incubator company KYMIRA, which develops wearable technology in the sport and medical fields, has closed its pre-seed funding round of £121,000. The round was led by members of the Henley Business Angels.
Reading student Methilda Hodgkins-Byrne finished third in the women's single GB Rowing Senior and U23 Trials at Caversham, reports the Reading Chronicle
The Express runs an interview with Reading graduate and BBC weatherman Tomasz Schafernaker about his career
Continued coverage of a Reading study (Food and Nutritional Sciences) that champagne could help ward off Alzheimer's disease in Better Homes and Gardens in Australia.
The University is sponsoring the Young Person of the Year award in the Pride of Reading awards 2017. The Reading Chronicle introduces each of the sponsors.
Director of Jersey Arts Centre Daniel Austin discussed on BBC Radio Jersey their upcoming performance of James and the Giant Peach, and his acting background, which began at the University of Reading