Low carb sushi wins for national food innovation prize
08 June 2017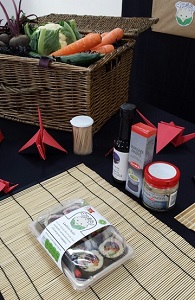 A low calorie version of sushi created by University of Reading students has won a national food innovation competition yesterday.
The product was entered into the nationwide Ecotrophelia competition after being developed by final year Food Biosciences students from the University of Reading. The sushi was judged by a dragons den-style panel and won the top prize of £2000 and a chance to represent the UK in a EU-wide final at Food Matters Live in November 2017.
Katharine Law from the winning Yasai Caulirice Sushi team said:

"We're shocked and delighted to have won this year's competition especially with the quality of some of the other entries. Our team have worked incredibly hard and have benefitted from the links that the University of Reading has with the food industry to really understand what goes into product development.

"The inspiration for Yasai Caulirice Sushi came after being given the challenge to create a ready-to-eat product that would provide two of your 5-a-day. We looked into the growing trends of veganism, and replacing carbohydrates with vegetables to create a lower calorie food. Rather than creating yet another salad, we chose Sushi – which is growing in popularity – and our innovative recipe now makes this choice a healthier option."

Now in its fifth year, Ecotrophelia challenges teams of UK students to develop an innovative, eco-friendly food and drink product. A panel of food expert judges carefully assessed a record number of entrants before picking the final five.

Dr Maria Jose Oruna-Concha from the Department of Food and Nutritional Sciences, University of Reading said:

"We're thrilled for the Yasai Caulirice Sushi team for creating a product that stood out to the judges and also delighted for our donut team who were shortlisted to represent the University in this year's Ecotrophelia competition showcasing the best student innovation in food products.

"It's testament to the hard work of our students, and the broad range of courses that the teams are made of including food and nutritional sciences, business, and marketing, to have such a strong showing in the final."

The entries from the University of Reading were:
Yasai Caulirice Sushi: Sushi style rolls that combine crunchy cauliflower rice with fresh-tasting vegetables that provides two of your five a day for less than 90 calories; and
Chocolate Strawberry Torte Donut: A baked cacao donut that has been dipped in dark chocolate, sprinkled with freeze dried strawberry pieces and topped with a dairy free white chocolate drizzle.
The 'dragons' are senior food experts from across industry including Marks and Spencer, Coca-Cola, Unilever, PepsiCo, Mondelez, Sainsbury's, Tesco, Warburtons, Food Manufacture, Institute of Food Science and Technology and Campden BRI.

Professor Richard Frazier, Head of the Department of Food and Nutritional Sciences at the University of Reading said:

"Food sciences have had a long and distinguished place here at Reading, and I'm delighted that our students are once again recognised among the most innovative in the country. Our expertise and facilities provide students with a real experience of the kind of work that happens in industry, and we're proud of our relationships across the sector that means that more than 96% of our students are working or in further study after graduation."

The UK heat of this Europe-wide competition was organised by UK food and drink research organisation, Campden BRI, in conjunction with the Institute of Food Science & Technology, the independent qualifying body for food professionals in Europe.